Ad Networks are known to efficiently sell off your remnant ad inventory. Ad networks take the remaining inventory from multiple publishers, separate them based on demographics and sell the segregated impressions to advertisers who are particularly interested in similar impressions. Publishers use these networks to find ways to sell inventory that they could not sell through direct sales. Given that unsold inventory is just a loss of revenue, it is always better to rely on the best ad networks in India for publishers to maximize revenue.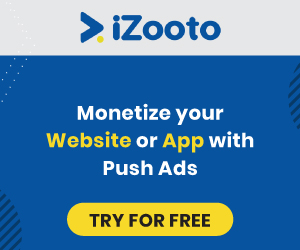 1. AdPushup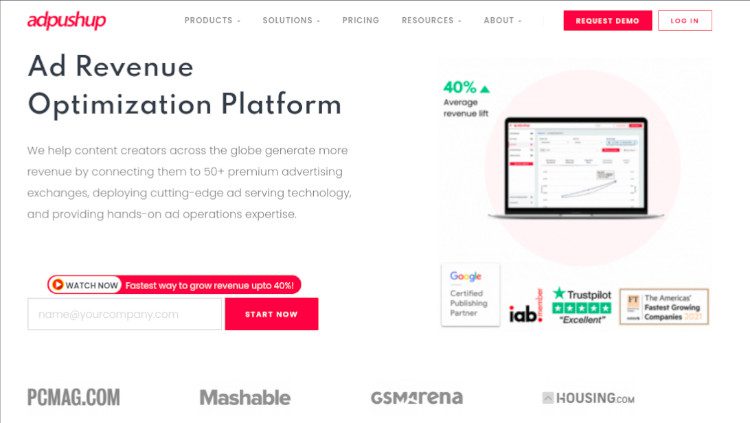 AdPushup is a solution for revenue optimization that raises Indian publishers' CPMs and CTRs in order to maximize their ad revenue. They achieve this, among other things, by automating A/B testing for publisher-side ad layout optimization.
The Microsoft Ventures-funded team is a member of the IAB, a Google NPM Partner, and a registered member of the Trustworthy Accountability Group (TAG). Leading venture partners have contributed to multiple rounds of funding for it.
They take great satisfaction in having the best monetization tools available on a single platform. They provide creative ad formats, A/B testing technologies, header bidding, ad mediation, AdBlock recovery, and AMP conversion in addition to their other services. AdPushup provides the most recent ad technology optimization strategies, including lazy loading and auto-refresh advertising.
Features:
You are able to change the arrangement of your advertisement with a few mouse clicks. Your new ad units can be placed wherever you like, and their AI technology uses automated A/B testing to boost revenue.
They choose high viewability for their ad formats, which has been shown to raise CTR and inventory value. This covers native ads, docked ads, sticky ads, and in-view ads.
Since everyone understands the value of quicker page loads, the AdPushup team developed their own AMP Converter, which provides custom designs and improved monetization tools for your site.
This cutting-edge programmatic technology enables several exchanges and demand sources to concurrently and in a real-time bid on your impressions, increasing bid pressure and ad revenues.
In closed networks without RTB auctions, this method maximizes revenue. In order to assign the impression to networks that are most likely to make the highest bid, it examines past bid performance.
2. Ezoic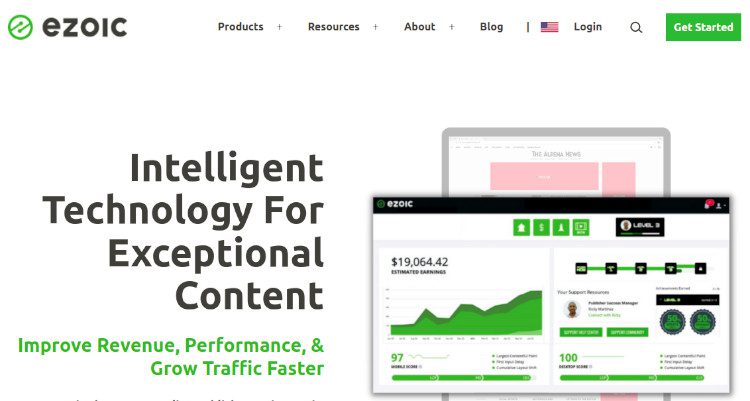 Ezoic makes sure that websites utilizing their technologies comply with the AdSense guidelines because they are Google Certified Publishing Partners. Ezoic does not require you to have an AdSense account, but if you do, it must be in great condition, as Ezoic cannot approve sites that AdSense has banned due to policy breaches. Ezoic does not seek primarily corporate websites or e-commerce in character but rather sites that are informative and content-rich, creative, and appealing. But it can be taken into consideration if your website is a blog that is connected to an online store.
Features:
Each level offers more ad partners, the highest revenue guarantee, more perks, and progressive resources like devoted employees and subject matter experts.
As you develop, you may open up additional premium monetization options, link your current ad networks, automate advertising testing, and access top-performing advertising partners.
Ezoic makes use of powerful data science models created specifically for SEO to make it simple for websites to test and apply improved title tags.
With a lightning-fast cloud designed for publishers, you can instantly distribute sites. It has cutting-edge security features designed specifically for ad-serving sites, as well as Core-Web-Vital-friendly ad serving.
3. Readwhere Advertising Exchange (RWADX)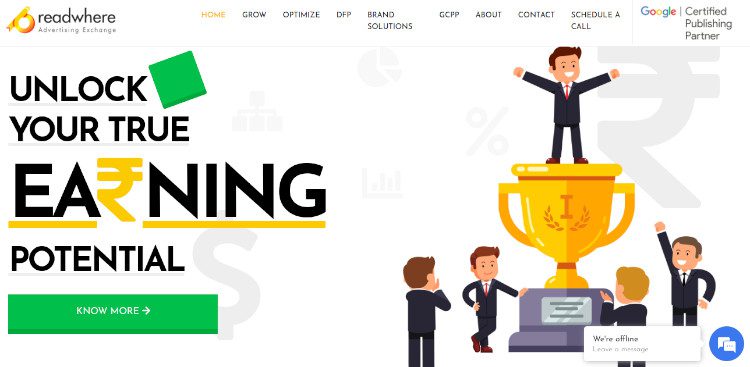 Readwhere Ad Exchange is India's largest vernacular advertising network, partnering with brands and marketers on high-return CPM and CPC campaigns. It offers high-return campaigns for your online, mobile, and tablet inventories. Where Change is Powered is explained. As a recognized Adsense partner and by Google Double-click AdX, it aims to maximize your Adsense revenue.
Features:
With the help of content recommendations, you can keep visitors to your website, provide intense engagement for your advertising, and increase revenue.
Utilize machine learning to test your web assets' most essential components automatically. Lower bounce rates, better page views, and increased income result from this.
Websites in regional or vernacular languages have experienced phenomenal traffic growth, and this increase is expected to continue. Only RWADX is a Google partner in India that has assisted numerous vernacular publications in using their platform to display advertisements and make money.
It offers cross-device solutions for mobile, video, and displays. Develop native iOS and Android apps as well as mobile web (Accelerated Mobile Pages (AMP) and Progressive Web Apps (PWA)) with unique styles and layouts for enhancing and engaging mobile users.
A new advertising paradigm called programmatic solutions automatically links leading media buyers and Indian publishers. With "Preferred Deals" with fixed CPMs or exclusive auctions with higher floor prices and numerous purchasers, it aids publishers.
4. Unibots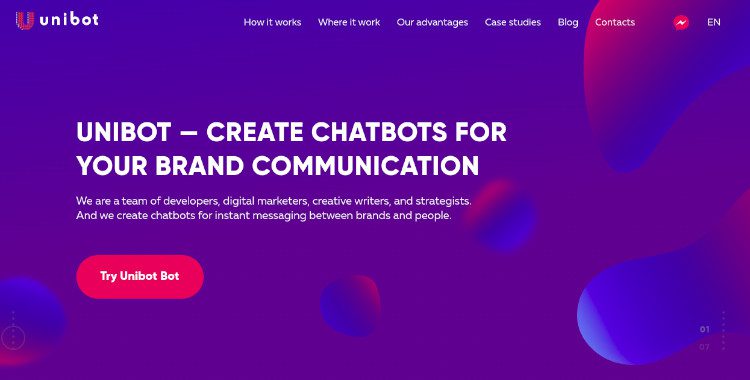 The Unibot platform lets you construct artificial intelligence-based chatbots with the capacity to hold data, self-learn, and evolve concurrently. Each user produces a Bot with a different name, a different database, and particularly a dynamic 3D avatar. Voice STT, TTS, and private, interactive communication provide a new, dull user experience. Even though you cannot code, the platform's capacity to be customized allows Multilingual users from all over the world to use it to manage natural language. 
The special connecting network made possible by Omni Channel, which includes Skype, Facebook, Twitter, SMS, WeChat, Slack, Google, IBM, Telegram, and Email, is as simple to use as eating. A wonderful analytical solution for your marketing is O2O (online to offline) expense optimization. It helps you quantify where your clients come from.
Features: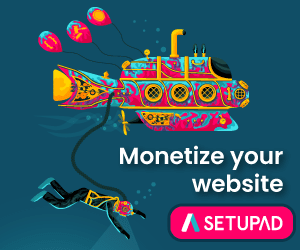 Database of information about the product or service with an integrated knowledge base.
Your users can make payments directly in the messenger by connecting to any payment system.
Have complete control over the dialogue; allow your bot to link a user to assistance to handle particular problems.
Multilevel dialogue trees can be customized to fit any conversational twist.
Gather and analyze data to improve the positioning of your products.
Conversation with a bot is natural and fluid because of AI and NLP.
5. AdSolut Media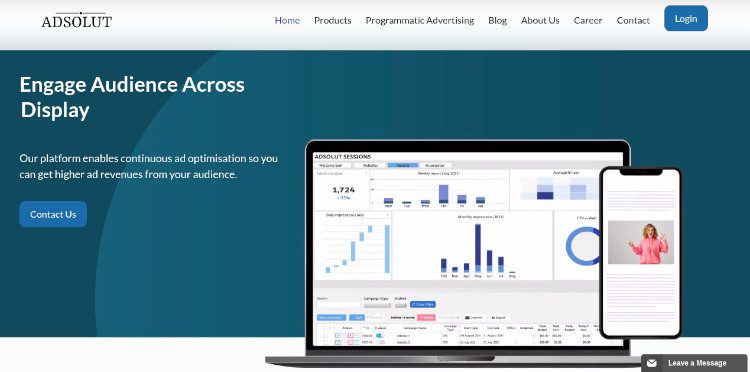 Contextual ad network Adsolut Media has agreements with some of the biggest ad exchanges in the market. The primary objective of the company is the continuous dynamic development of its programmatic solutions to ensure that the relationships between advertisers and publishers are fruitful and profitable for both parties. Each ad request is tracked by its tracking tool to ensure accuracy. By presenting the most appropriate ad campaigns, its machine learning algorithms assist in obtaining the greatest CPM.
An in-depth analysis of your overall success is provided via the analytics dashboard, which also allows you to break down your revenue by eCPM, app, country, and other factors. Export weekly, monthly, or daily reports to monitor your progress over time.
Features:
Its unified ad-tech solutions, which are entirely customizable, accessible on all screens, have a variety of formats, and are house-built, connect buyers and suppliers.
partnered with the biggest DSPs, trading desks, exchanges, and advertisers to support publishers internationally
Its first priority is keeping you secure. To maintain safe ad space buying and selling, it abides by all applicable industry norms.
Through the use of AI-driven technology, its platform employs the most effective methods to optimize each request to benefit both its buyers and Indian publishers.
Receive access to its special inventory and just pay for what you desire using PMPs and PG on various screens.
Utilize its smart technology to boost your businesses across Live TV, CTV, and Roku.
6. Vdo.ai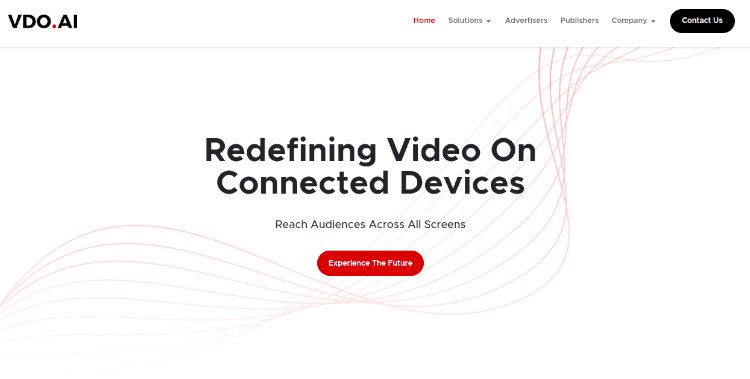 VDO.AI is a digital ad platform that enables Indian web publishers to leverage the potential of video content with advertising, increasing monetization by up to 50%. This platform aids publishers in making the shift to the future as video takes over as the primary method of content consumption on the internet.
Some of the top online Indian publishers receive an end-to-end provision of the video player, video content, video streaming, and video advertising from their proprietary technological platform.
In order for a high-value video advertising ecosystem to flourish, it aims to combine the top advertisers with qualified publishers.
Features:
VDO.AI integrates a native video widget to provide publishers with better revenue.
The dashboard provides a quick glance at statistics like revenue, impressions, and CPM, along with a number of filtering options to analyze the region and device origins of your visitors.
Once a minimum of USD 100 has been reached, publishers can withdraw their earnings from VDO.AI under the NET 30-day payout schedule. All publisher partners are eligible to receive payment by wire transfer or Paypal. The network has a great reputation for paying Indian publishers on time and is quite timely with payments.
7. iZooto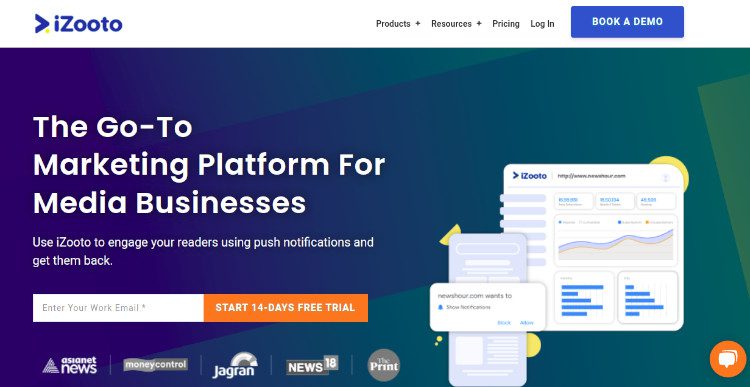 iZooto is a solution for owned audience marketing that uses push notifications as a channel to assist Indian publishers in building, owning, and engaging their audience. With the help of iZooto, publishers can control their audience and rely less on Google and Facebook. To encourage recurring visitors and increase the revenue from their current display advertising, publishers connect their audience with targeted and automated alerts. Indian publishers can also use notifications to push adverts to their audience and increase their income.
You can own, engage, and keep your audience with the help of iZooto. They evaluate your marketing requirements and make sure you can automate and personalize your engagement. You may directly communicate with your audience with iZooto, increase traffic to your website, and increase sales.
Features:
It assists you in re-engaging website visitors using highly contextual website push notifications.
Through carefully chosen app push notifications, you can capture your consumers' full attention.
You may enhance Facebook reach and engagement by avoiding the Facebook algorithm.
With a customized notification inbox, it can improve how easily people can find content on your website.
It turns casual browsers into interested readers, increasing page views.
8. optAd360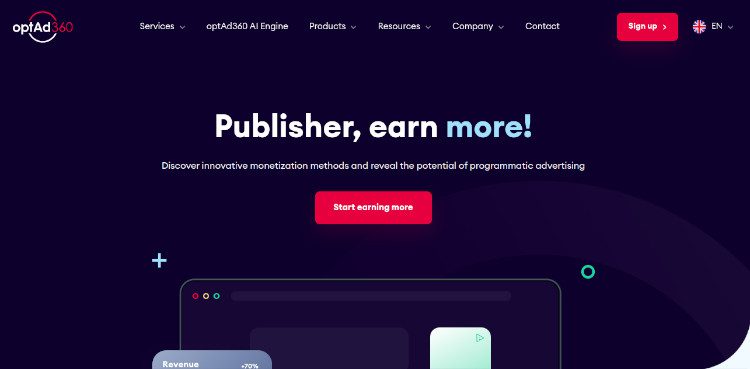 One of the Google Certified Ad Exchanges, OptAd360, uses its OptAd360 AI to provide website, video, and app monetization services. Their objective is to use cutting-edge techniques and experience to assist each publication in monetizing its digital content.
Use Google Ad Manager MCM to monetize on optad360 with and without AdSense. Because it utilizes header ad bidding, the optad360 ad network is comparable to value impressions.
Optad360 has a large number of high-end ad partners who make bids each time an ad request is made on your website and who pay well. The adverts from those ad partners will appear. The majority of the time, Google AdSense wins bids, and Google AdSense's advertising is displayed.
Features:
They are able to speak 16 different languages, including English, Filipino, Japanese, Korean, Russian, French, German, Italian, and Spanish.
Simply add a main tag to the website to activate the Connect and Operate monetization options and unleash the full power of your business. Therefore, you shouldn't connect to third parties, modify your DNS, or do anything else.
The effectiveness of the website, user behavior, and device all influence how the site's advertisements are presented. It has a greater potential for revenue and is fully automated.
Ad Refresh technology is now being used by many platforms and providers to boost the number of ad impressions.
Ad networks work with both advertisers and publishers and collaborate with them to help them reach their campaign goals. When choosing ad networks, publishers should keep in mind some metrics like the size of the network, quality of ads, ad formats, and the tech used. Rely on our list of the best ad networks to find networks that would truly help you increase your revenue.
Our Recommended Tools for Publishers:
Looking to Increase your Ad Revenue:
Get in touch with me for a personalised consultation and increase your ad revenue across native, display, video (instream and outstream), in-app and other verticals. I also assist in customized DFP setup, header bidding, and content creation strategy. My skype id is:
ronniedey
. Feel free to connect!

I and my team research various ad networks and can help you increase your overall ad revenue; so you could rake in more greenbacks with the best monetization platforms. Tap into the power of the online publishing business with me. I am just a mail away, so reach out to me if you want to scale up your website revenue. mail: [email protected]