There is a huge number of ad networks in Nigeria for publishers that you must look out for. These are some of the best ad networks and can easily compete with global ad exchanges and networks. Ad networks are imperative for publishers because they help efficiently sell remnant ad inventory. As publishers, these ad networks will take your inventory based on various criteria and sell them to advertisers looking for the same kind of impressions. As a Nigerian publisher, you want to find opportunities to sell inventory that you could not via direct sales because, eventually, unsold inventory is just a loss of revenue.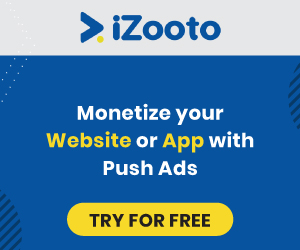 Table of Contents:: Summary
hide
7 Best Ad Networks in Nigeria for Publishers (2022 Update)
Here is a list of the best ad networks in Nigeria for publishers that can help you monetize well.
1. iZooto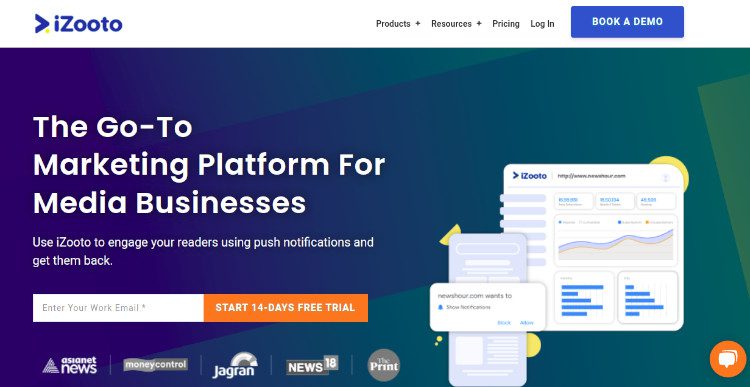 iZooto is a solution for owned audience marketing that uses push notifications as a channel to assist Nigerian publishers in building, owning, and engaging their audience. With the help of iZooto, publishers can control their audience and rely less on Google and Facebook. To encourage recurring visitors and increase the revenue from their current display advertising, publishers connect their audience with targeted and automated alerts. Nigerian publishers can also use notifications to push adverts to their audience and increase their income.
You can own, engage, and keep your audience with the help of iZooto. They evaluate your marketing requirements and make sure you can automate and personalize your engagement. You may directly communicate with your audience with iZooto, increase traffic to your website, and increase sales.
Features:
It assists you in re-engaging website visitors using highly contextual website push notifications.
Through carefully chosen app push notifications, you can capture your consumers' full attention.
You may enhance Facebook reach and engagement by avoiding the Facebook algorithm.
With a customized notification inbox, it can improve how easily people can find content on your website.
It turns casual browsers into interested readers, increasing page views.
2. Setupad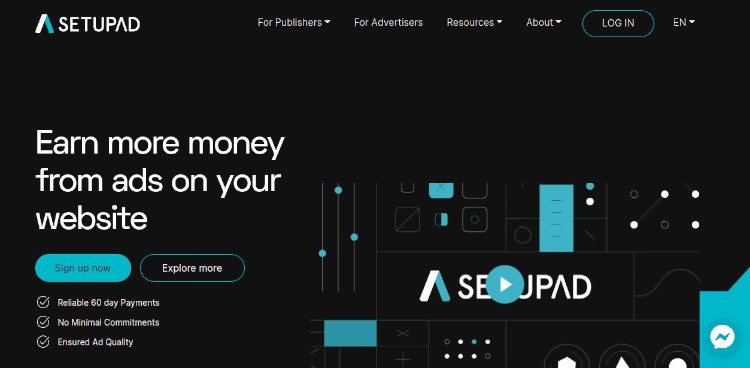 Setupad is a monetization tool that allows content producers to display programmatic advertising to boost their ad revenue. More than 15 supply-side networks, including Google, are connected to the publisher's ad inventory through Setupad using header bidding technology. Clients often observe a minimum of 30% more revenue when Setupad is deployed by recommendations as opposed to their pre-existing monetization method. Some users have even experienced up to 300% increases.
Although the idea of header bidding is somewhat complex, Setupad simplifies the process stress-free and makes implementation incredibly simple—no source code change is needed.
Features:
Header bidding enables Nigerian publishers to concurrently offer inventory (advertising space) to a number of ad exchanges before switching back to their ad servers.
Setupad's solution gives you various options when determining which advertising is appropriate for your website and is one of its primary selling points.
Advertising flexibility enables you to customize your adverts to match their requirements and tastes, which helps to encourage users to stay on your site longer.
Additionally, Setupad offers native advertising, which draws viewers in by displaying ads with a design that matches your website's.
The setupad app is known for making a lot of money. The majority of users claim to have at least doubled their revenue since witnessing delightful results.
3. UnderDog Media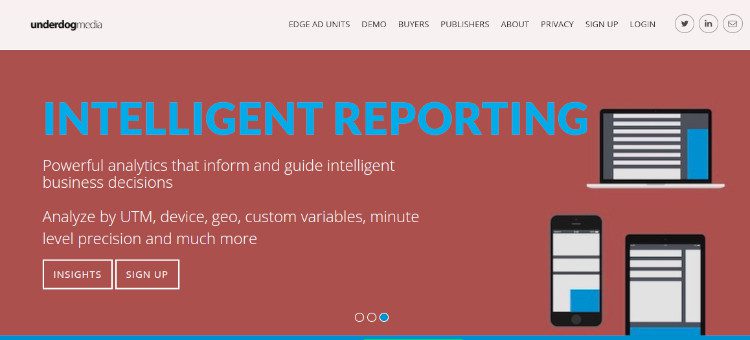 Underdog Media is a dynamic ad monetization network that prioritizes offering its publisher partners highly visible ad units. The EDGE unit, a hybrid slider that can provide both video and conventional display ads, is the flagship item for UDM.
According to Underdog Media, their units are 100% visible, which appeals greatly to their programmatic advertising clients. This results in higher CPMs and fills rates when employing a media unit that isn't as popular. They have unique technology that allows them to prevent their ads from running if they are blocking out another ad, so they respect all of your available advertising space.
Only one EDGE ad block will populate at a time to ensure the best user experience. UDM will conduct an internal auction to identify the highest CPM offer among all direct advertiser relationships, demand partners, and IAB ad sizes using programmatic methods.
Features:
Underdog Media offers a selection of ad unit sizes compatible with all devices and website layouts.
You have the choice to enable and show particular sizes and formats by working with your account manager.
You can monitor daily revenue, device types, eCPM, and fill rate, and split out revenue by product and device in UDM's sophisticated reporting UI so you can see where your earnings are coming from.
In the market, Underdog Media is renowned for consistently making payments on schedule. They always pay on time and pay NET25.
4. Value Impression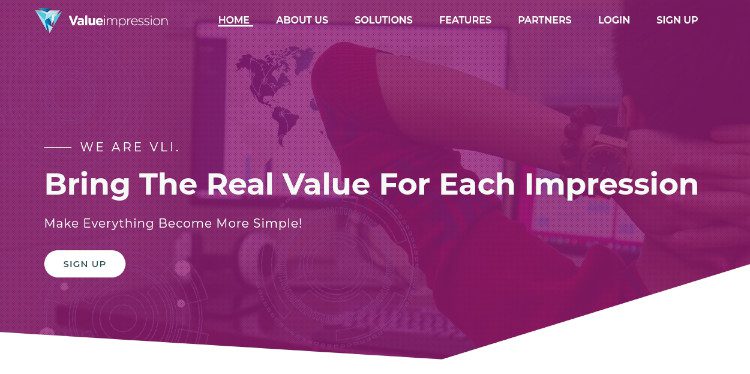 Valueimpression is a high-converting ad network. They assert that earnings might range from 40 to 300 percent higher than those on other networks. At Valueimpression, the CPC, RPM, and eCPM rates are all reasonably high. Since it offers special features like automatic ad refresh and sticky ads at the bottom of your webpage, it is quite advantageous to Nigerian publishers.
Your blog or website must receive at least 100k monthly visitors or 750,000 monthly impressions to qualify for Valueimpression. They might still accept your blog if it has high-quality information on your website.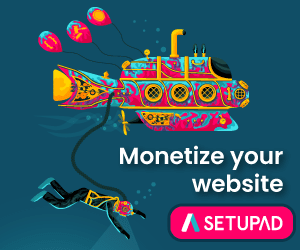 Features:
Valueimpression advertisements employ lazy load technology, which opens them after the page loads, so they open smoothly and don't affect your website's ranking.
Valueimpression is a reputable ad network, and thousands of Nigerian publishers currently use it on their websites. You can also check the advertisements that are running on other websites by looking for the value impression tag on the ads.
They have been in advertising for more than eight years. To generate revenue, they will optimize the advertising using their own AI scripts that fill 99% of the available space with the highest-paying cpm ads.
5. AdPushup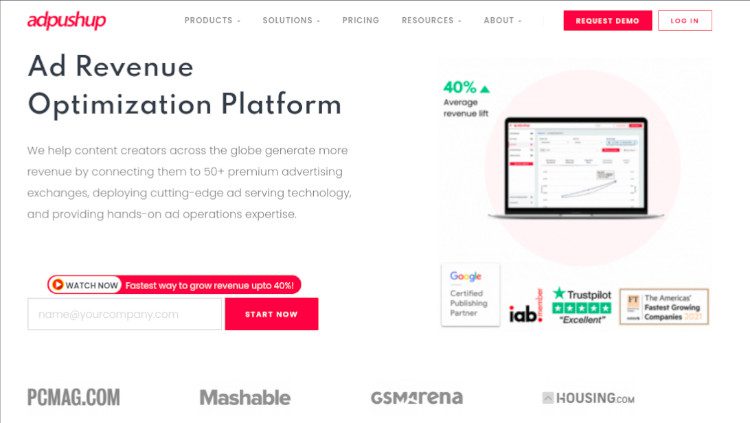 AdPushup is a solution for revenue optimization that raises Nigerian publishers' CPMs and CTRs in order to maximize their ad revenue. They achieve this, among other things, by automating A/B testing for publisher-side ad layout optimization.
The Microsoft Ventures-funded team is a member of the IAB, a Google NPM Partner, and a registered member of the Trustworthy Accountability Group (TAG). Leading venture partners have contributed to multiple rounds of funding for it.
They take great satisfaction in having the best monetization tools available on a single platform. They provide creative ad formats, A/B testing technologies, header bidding, ad mediation, AdBlock recovery, and AMP conversion in addition to their other services. AdPushup provides the most recent ad technology optimization strategies, including lazy loading and auto-refresh advertising.
Features:
You are able to change the arrangement of your advertisement with a few mouse clicks. Your new ad units can be placed wherever you like, and their AI technology uses automated A/B testing to boost revenue.
They choose high viewability for their ad formats, which has been shown to raise CTR and inventory value. This covers native ads, docked ads, sticky ads, and in-view ads.
Since everyone understands the value of quicker page loads, the AdPushup team developed their own AMP Converter, which provides custom designs and improved monetization tools for your site.
This cutting-edge programmatic technology enables several exchanges and demand sources to concurrently and in a real-time bid on your impressions, increasing bid pressure and, consequently, ad revenues.
In closed networks without RTB auctions, this method maximizes revenue. In order to assign the impression to networks that are most likely to make the highest bid, it examines past bid performance.
6. Exoclick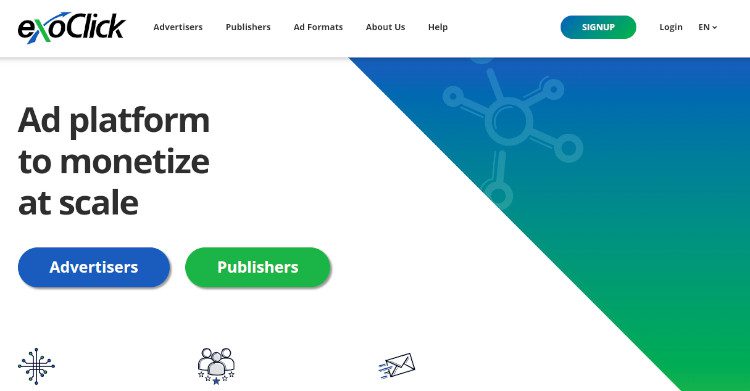 Leading ad technology provider ExoClick offers Nigerian publishers and advertisers possibilities to monetize content. It functions both as an ad network and as an ad exchange. Along with working with other DSPs and advertising networks, ExoClick's Ad Exchange technology aids Nigerian publishers in monetizing their traffic within ExoClick's ad network.
Exoclick serves more than 8.5 billion geo-targeted advertising daily in its capacity as an ad network. A worldwide network of 65,000 mobile or website publishing platforms receives these advertisements.
ExoClick's patented platform provides access to big data analytics and strategic analytical tools to increase ROI further, 20+ distinct ad formats, targeted targeting, behavioral retargeting, data refreshes every 60 seconds, dayparting, and round-the-clock customer assistance.
Features:
With the help of the platform API, developers can build custom software extensions for the platform's programmatic operations.
ExoClick's real-time statistics, selection of formats, and courteous customer service available around the clock will help you make the money you deserve. Current profits do not include future payouts.
ExoClick provides service seven days a week for queries, problems, or upgrades. All ExoClick users have access to a FAQ section, definitions, and recommendations, but they may also get in touch with assistance at any time for a prompt response.
ExoClick gives referred publishers 5% of their lifetime earnings as long as they stay online.
7. Brid.tv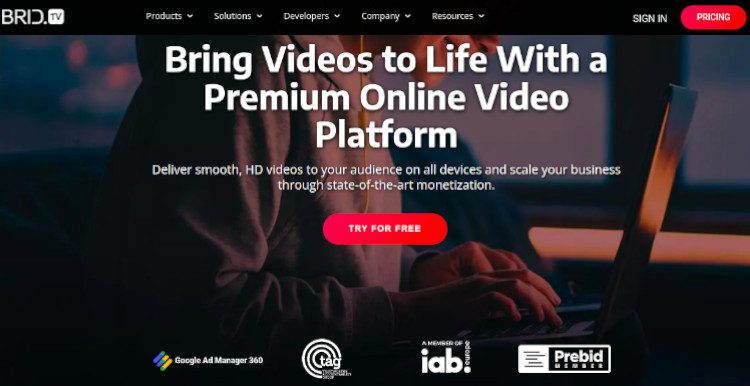 Technology business BridTV, which offers an enterprise-level video monetization solution, is rapidly expanding. They are committed to assisting their publishers in expanding and profiting from their various audiences because of their potent HTML5 player, cutting-edge video platform, and content management system. With locations in Belgrade and Los Angeles, BridTV is quickly moving up the online video publishing and advertising eco-system.
The media streaming services offered by BridTV utilize a wide range of AWS services, including RDS, Redshift, EC2, S3, and CloudFront. StormIT has been assisting Brid in reducing the expenses associated with its worldwide infrastructure so it can continue to generate a profit and support its rapid expansion while offering its publishers high-quality video streaming services.
Features:
With the help of Brid. FOR Premium TV ad solutions, publishers may increase their yield by providing the best possible video advertising to each viewer.
It makes use of a real-time media exchange with patented real-time bidding, which enables premium advertisers to get their ads displayed in front of the most valuable audiences in their natural environments, such as publisher websites or mobile apps.
Nigerian Publishers can choose from a variety of integration options on Brid.TV, including true-playout video packages with cutting-edge brand safety programs integrated and contextual advertising.
There are many options available on the internet that you can consider, making the process of deciding on one ad network extremely difficult. When choosing the best ad networks in Nigeria for publishers, it is important that you see how closely the ad campaign matches the user's search. Rely on our list to find the best-performing network.
Our Recommended Tools for Publishers:
Looking to Increase your Ad Revenue:
Get in touch with me for a personalised consultation and increase your ad revenue across native, display, video (instream and outstream), in-app and other verticals. I also assist in customized DFP setup, header bidding, and content creation strategy. My skype id is:
ronniedey
. Feel free to connect!

I and my team research various ad networks and can help you increase your overall ad revenue; so you could rake in more greenbacks with the best monetization platforms. Tap into the power of the online publishing business with me. I am just a mail away, so reach out to me if you want to scale up your website revenue. mail: [email protected]