Finding the best ad networks in the US for publishers is quite easy, but the only issue is that there are too many options available. There is constant jargon in the ad tech industry, which does not help you. There are several questions that come up, and you clearly do not have the time to dive deep and understand the manner in which the adtech ecosystem works. However, the few things to certainly consider are the size of the network, quality of ads, ad formats, compensation, and the technology used. When you are making a choice, remember these criteria and the goals you have.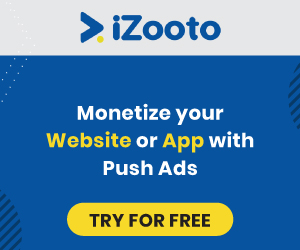 Table of Contents:: Summary
hide
7 Best Ad Networks for Publishers in the US (2022 Update)
Take a look at the best ad networks for publishers in the US market.
1. AdPushup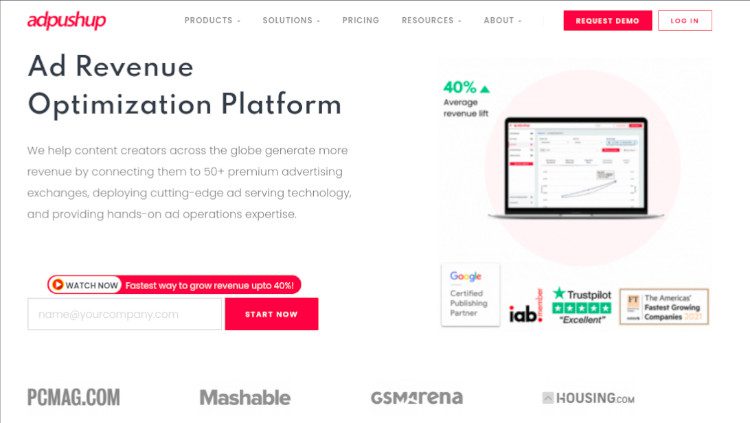 AdPushup is a solution for revenue optimization that raises the US publishers' CPMs and CTRs in order to maximize their ad revenue. They achieve this, among other things, by automating A/B testing for publisher-side ad layout optimization.
The Microsoft Ventures-funded team is a member of the IAB, a Google NPM Partner, and a registered member of the Trustworthy Accountability Group (TAG). Leading venture partners have contributed to multiple rounds of funding for it.
They take great satisfaction in having the best monetization tools available on a single platform. They provide creative ad formats, A/B testing technologies, header bidding, ad mediation, AdBlock recovery, and AMP conversion in addition to their other services. Additionally, AdPushup provides the most recent ad technology optimization strategies, including lazy loading and auto-refresh advertising.
Features
You are able to change the arrangement of your advertisement with a few mouse clicks. Your new ad units can be placed wherever you like, and their AI technology uses automated A/B testing to boost revenue.
They choose high viewability for their ad formats, which has been shown to raise CTR and inventory value. This covers native ads, docked ads, sticky ads, and in-view ads.
Since everyone understands the value of quicker page loads, the AdPushup team developed their own AMP Converter, which provides custom designs and improved monetization tools for your site.
This cutting-edge programmatic technology enables several exchanges and demand sources to concurrently and in a real-time bid on your impressions, increasing bid pressure and, consequently, ad revenues.
In closed networks without RTB auctions, this method maximizes revenue. In order to assign the impression to networks that are most likely to make the highest bid, it examines past bid performance.
2. CafeMedia/AdThrive
AdThrive is a well-known ad management tool that aids website owners in maximizing their advertising earnings. AdThrive is a complete ad management platform that provides a variety of services to assist website owners in maximizing their advertising revenue.
The platform offers capabilities for managing all facets of your ads, including ad placement optimization, ad targeting setup, and results from the analysis. Additionally, AdThrive has numerous interfaces with well-known ad networks, making it simple to match your website with the appropriate advertisers.
Adthrive is a great ad network for bloggers. They provide high CPMs, excellent customer service, and prompt payments.
Features
AdThrive guarantees payment to US publishers even if marketers do not pay them.
They occasionally give RPM guarantees to publishers switching from another ad network.
AdThrive uses a solution for delayed ad loading. This enables publishers to delay the loading of ads in an effort to improve their Google PageSpeed Insights rankings.
3. Freestar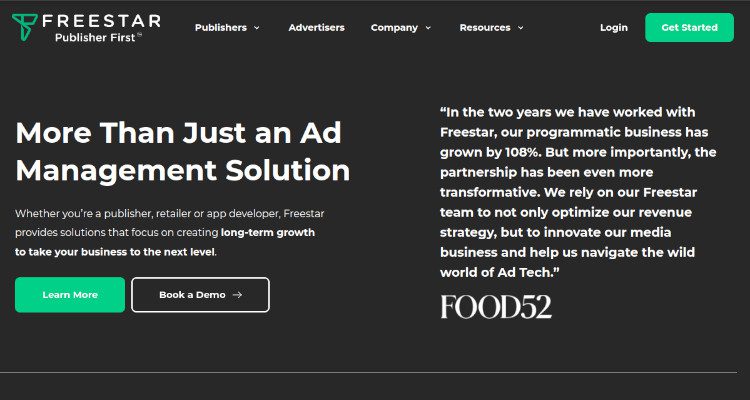 Freestar is an ad tech firm with a publisher-focused focus that was founded in 2015 and had its corporate headquarters in Phoenix, Arizona. They were placed first on the Inc 5,000 list in 2019.
With over 130 million unique visitors and 10 billion ad impressions, the network boasts remarkable stats and collaborates with hundreds of top-tier US publishers across all verticals. CoinDesk, Gardening Know-How, Fortune, Sports Reference, and Barstool Sports are a few publishers that use Freestar.
Freestar works with its publishers to primarily develop unique header bidding solutions in order to monetize nearly all of a publisher's available inventory across display, desktop, mobile, video, and in-app. To start ad campaigns, you can, nevertheless, utilize their self-serve site if you are an advertiser.
Features
Access page-level revenue information to see where each dollar is coming from, produce meaningful insights quickly, and track the effectiveness of your ads in real time.
In order to assist US publishers with their long-term business expansion, Freestar has invested in expanding its Audience Development team. Traffic plays a significant role in overall revenue. It provides group traffic sessions, content strategy, SEO consulting, and more.
Their solutions allow you to concentrate on producing excellent content. At the same time, they take care of everything from initial onboarding and establishing ad-serving code to connecting with partners and optimizing ad layouts.
4. Mediavine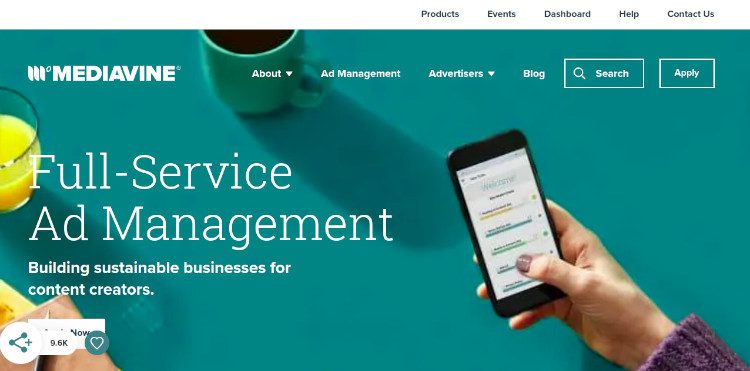 For digital content producers who want to commercialize their websites, Mediavine offers a full range of ad management services. For a high return on investment, the corporation pays bloggers and online US publishers to insert adverts on their websites.
Users also have access to a sophisticated reporting system that details which advertisements perform the best and which may need to be adjusted. Mediavine maintains basic standards for publishers, just like other ad networks.
The most crucial condition is that your site has at least 50,000 visits every month. Since sessions more accurately reflect the value of your traffic, Mediavine utilizes sessions as a metric rather than page views.
However, for smaller bloggers, this high session need may be prohibitive. You'll also require to be in good standing with Google Adsense, along with a high session requirement. Additionally, Mediavine wants bloggers to create long-form, interesting content.
Features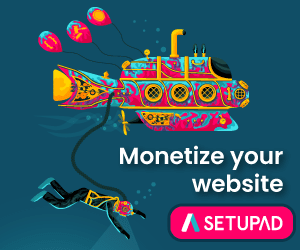 A single plugin from Mediavine lets you create different Google schema types for lists, recipes, and DIY instructions.
Drive significant engagement with social sharing that is genuinely configurable and elegantly integrated into your website's style.
The new theme framework from Mediavine was developed for websites that load more quickly. There are built-in optimizations for images, speed, and advertisements; no further settings or plugins are necessary.
5. MonetizeMore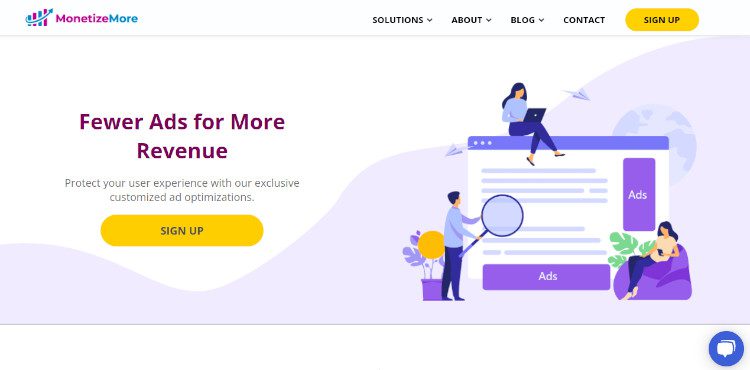 With over 700+ publications they manage, MonetizeMore is a rapidly expanding ad tech company that has established itself as the industry leader in ad revenue optimization. They do a good job of vetting sites, onboarding new users, and improving site layouts, which is excellent; their distinctive advantages for more prominent US publishers outweigh that.
By boosting ad sales at one of Canada's largest online classified networks, MonetizeMore distinguished itself as the strategy's forerunner.
Following the initial years of success, MonetizeMore expanded its refined methods to an increasing number of premium publications.
The free product and consistent performance of MonetizeMore caught Google's eye, and the two businesses collaborated to grant MonetizeMore immediate access to a control account for Google Ad Exchange (AdX). As a result, MonetizeMore was able to satisfy any publisher clients on their list that requested AdX.
MonetizeMore was able to increase the performance of its publishers' ads, even more, thanks to AdX, one of the best systems for monetizing display ads. As their partnership evolved, MonetizeMore and Google formally recognized one other as Certified Partners in 2014.
Features
US Publishers can choose from a full range of hands-off to self-serve ad optimization services and online marketing solutions from MonetizeMore.
Analyze your ad revenue across ad networks, websites, and UTMs, considering the source, campaign, and medium. Recognize revenue variations and take their expert counsel into consideration to improve your publishing company every single time.
With MonetizeMore, you'll get better revenue splits and payment terms, save time and get access to specialized ad networks that require billions of ad impressions every month.
The technology behind MonetizeMore has been created to function across all of your accounts. There's no need to use its accounts, transfer your DNS, and cross your fingers in order to submit to black box technology. Instead, your team keeps command while gathering trustworthy data without compromising performance.
6. Ezoic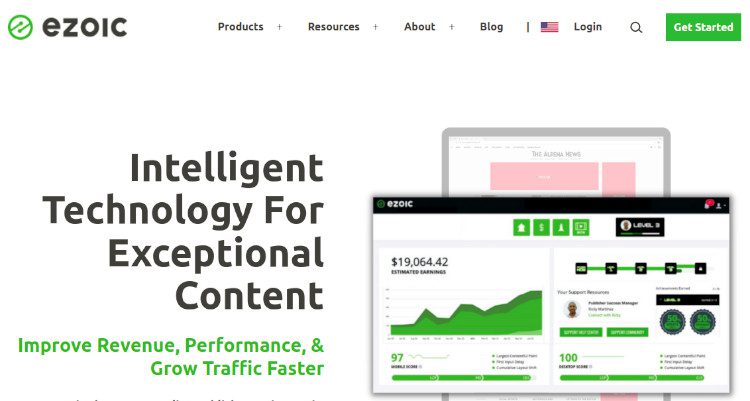 Ezoic makes sure that websites utilizing their technologies comply with the AdSense guidelines because they are Google Certified Publishing Partners. Ezoic does not require you to have an AdSense account, but if you do, it must be in great condition, as Ezoic cannot approve sites that AdSense has banned due to policy breaches. Ezoic does not seek websites that are primarily corporate or e-commerce in character but rather sites that are informative and content-rich, creative, and appealing. But it can be taken into consideration if your website is a blog that is connected to an online store.
Features
Each level offers more ad partners, the highest revenue guarantee, more perks, and progressive resources like devoted employees and subject matter experts.
As you develop, you may open up additional premium monetization options, link your current ad networks, automate advertising testing, and access top-performing advertising partners.
Ezoic makes use of powerful data science models created specifically for SEO to make it simple for websites to test and apply improved title tags.
With a lightning-fast cloud designed for publishers, you can instantly distribute sites. It has cutting-edge security features designed specifically for ad-serving sites, as well as Core-Web-Vital-friendly ad serving.
7. Publift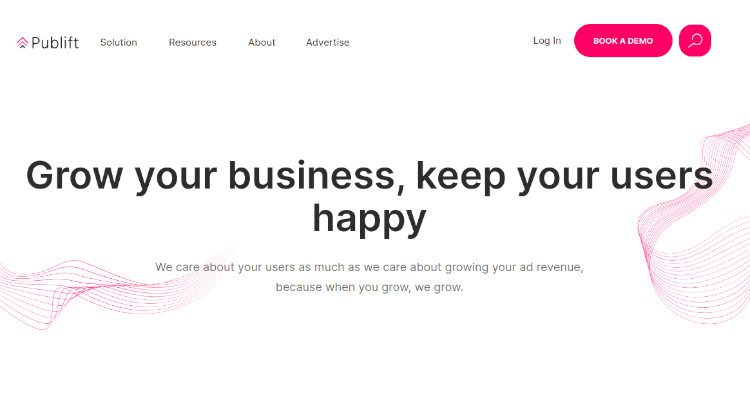 Header bidding, Private Marketplaces (PMPs), brand safety, automated reporting, and layout optimization for US publishers are the areas of expertise of Publift, an Australian publisher monetization platform. They manage the entire ad stack for publishers and strive to maximize profits for their customers. They control more than 4.5 billion impressions each month, and they have several publisher testimonies attesting to what a terrific business PubLift is.
Numerous top-notch websites, including Envato, Ozbargain, Willyweather, Readers Digest, Weatherzone, Broadsheet, and countless others, are among those they collaborate with. You can see every publisher using the network if you check their sellers.json file. They don't operate like a chop shop and have an entire C-Level staff in addition to engineers, account managers, and sales representatives.
Former Google employees who saw that publishers in the AU/NZ regions were far behind in programmatic technology and required a partner to catch up and boost their revenue launched Publift, a Google Certified partner. Their Publisher Resources area, which contains in-depth articles about monetization subjects, is one of the best features of their site, in its opinion.
Features
Users at Publift may do away with many scripts, partners, reporting systems, and platforms thanks to the company's in-house, unique adtech solution. One simple plug-and-play solution that is easy to use contains all the functionality.
The most recent programmatic monetization technologies, like header bidding and Google Exchange Bidding (EBDA), will be available to you if you work with Publift. This will greatly enhance competition for each impression.
They take steps to make sure that only premium, brand-safe adverts appear in your ad units because they genuinely dislike bad-quality advertisements. Even better, they have a Chrome extension called Adwizard that enables US publishers to disable any advertising you don't like in real time.
Private Marketplace deals have a large dollar value and are frequently very challenging for US publishers without adtech expertise to execute themselves. By taking care of the procedure for you and connecting their own unique PMP offers, Publift makes it simple.
The Bottom Line
AdSense is one of the best ad networks there is. But that does not mean that there is not any good ad network that can compare. There are several really good networks that can surpass AdSense, and you can figure that out from our list of the best ad networks in the US. You can rely on our list and maximize your revenue.
Our Recommended Tools for Publishers:
Looking to Increase your Ad Revenue:
Get in touch with me for a personalised consultation and increase your ad revenue across native, display, video (instream and outstream), in-app and other verticals. I also assist in customized DFP setup, header bidding, and content creation strategy. My skype id is:
ronniedey
. Feel free to connect!

I and my team research various ad networks and can help you increase your overall ad revenue; so you could rake in more greenbacks with the best monetization platforms. Tap into the power of the online publishing business with me. I am just a mail away, so reach out to me if you want to scale up your website revenue. mail: [email protected]