Whenever we think of or discuss ad networks, the first ad network we will consider is Google AdSense. It is undeniable that AdSense is one of the best ad networks there is; it is unassumable that other networks cannot surpass their performance. The adtech industry is constantly getting better and evolving, which makes it acceptable to say that Google certainly has some competitors now. It might take some trial and error to figure out which ad network would generate the highest revenue for you, but once you have figured it out, you can efficiently work on monetizing your website.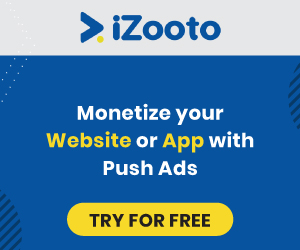 Table of Contents:: Summary
hide
7 Best Ad Networks in Canada for Publishers (2022 Update)
Here is a list of the best ad networks for publishers in Canada. These ad networks provide many features that can help you increase your advertising revenue.
1. MonetizeMore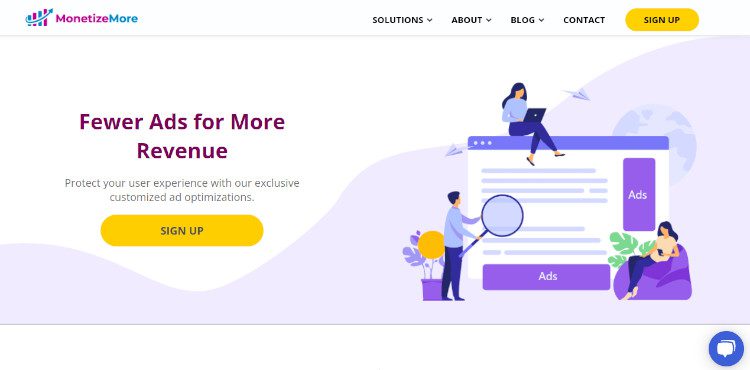 With over 700+ publications they manage, MonetizeMore is a rapidly expanding ad tech company that has established itself as the industry leader in ad revenue optimization. They do a good job of vetting sites, onboarding new users, and improving site layouts, which is excellent; their distinctive advantages for more prominent publishers outweigh that. By boosting ad sales at one of Canada's largest online classified networks, MonetizeMore distinguished itself as the strategy's forerunner. Following the initial years of success, MonetizeMore expanded its refined methods to an increasing number of premium publications.
MonetizeMore was able to increase the performance of its Canadian publishers' ads, even more, thanks to AdX, one of the best systems for monetizing display ads. As their partnership evolved, MonetizeMore and Google formally recognized one other as Certified Partners in 2014.
Features
Canadian publishers can choose from a full range of hands-off to self-serve ad optimization services and online marketing solutions from MonetizeMore.
Analyze your ad revenue across ad networks, websites, and UTMs, considering the source, campaign, and medium. Recognize revenue variations and take their expert counsel into consideration to improve your publishing company every single time.
With MonetizeMore, you'll get better revenue splits and payment terms, save time and get access to specialized ad networks that require billions of ad impressions every month.
2. Sortable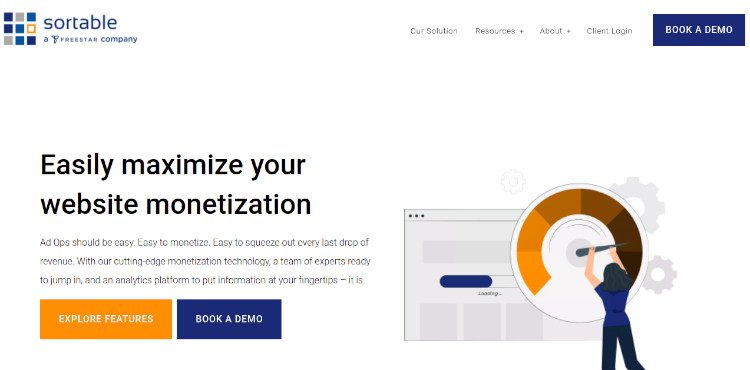 Sortable is a multi-faceted platform that assists Canadian publishers in unifying demand partners, data, and tools. It intends to increase ad revenues while streamlining the extremely complex publication processes. To help web publishers and content providers automate ad operations, Sortable leverages machine learning.
The two main advantages listed by Sortable are their agnostic approach to monetization and uniform reporting. In addition, they have a sizable engineering team, which guarantees efficient execution and potent solutions.
As ad stacks get increasingly complicated, reporting and analytics have always been difficult for web publishers. Users may access essential indicators on a single dashboard with Sortable Analytics' unified reporting to help them choose their yield strategy. It displays site and partner analytics performance.
Sortable takes an unbiased approach to monetization. Through header bidding, dynamic pricing floors and timeouts, partner discrepancy reduction, and server-to-server connectivity, they raise yield. Online publishers may build a powerful and competitive ad stack with the help of Sortable.
Features
You have complete transparency with your ad inventory thanks to the reporting and analytic interface.
You can select your own ad setup using your own methods or Sortable's GAM.
Along with being searchable, you can perform direct sales initiatives.
With Ad Stack, flexibility is offered. You can combine Sortable with your own in many ways.
It is the first player to use header bidding. The expertise you can trust upfront with regard to ad request CPM fees
3. Monumetric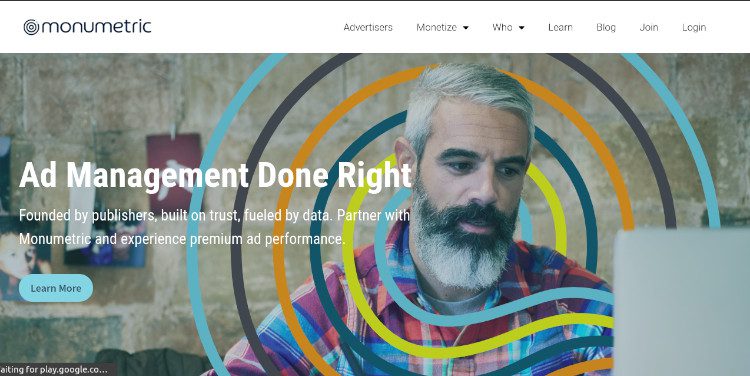 With a variety of different ad units, Monumetric is a one-stop display advertising partner that can help you monetize the visitors to your blogs. Monumetric automatically creates dynamic display advertisements based on your blog's content and the interests of your Canadian visitors whenever somebody visits.
Monumetric has you covered if you want to display in-article advertisements, dynamic video ads, or banners within your blogs or in your sidebar. Monumetric is distinct from other ad networks, such as Google AdSense, which exclusively provide static ads.
Even when a reader holds on the same page while reading one of your blog posts, their ad units are constantly updating and displaying fresh advertisements. As a result, you produce more clicks, impressions, and revenue.
The Monumetric RPM for your long posts can soar through the roof thanks to these dynamic ad units.
Features
There are several choices available when it comes to premium ad networks for blogging.
They are able to claim larger RPMs than services like AdSense, which are renowned for having infamously low rates, thanks to their proprietary tools and their acceptance of sites with minimum traffic targets (10,000 page views a month).
Before becoming eligible for higher-tier ad networks like Mediavine, users with 10,000 to 50,000 page views frequently choose Monumetric as their preferred ad network.
Monumetric's cancellation policy is also quite simple, requiring just 30 days' notice due to the contract's month-to-month nature.
4. Ezoic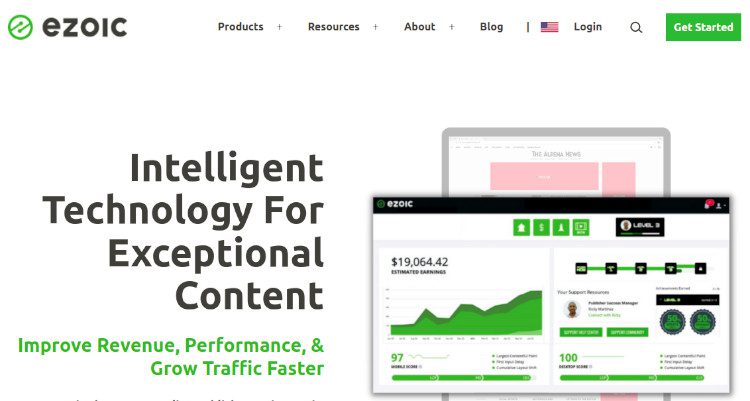 Ezoic makes sure that websites utilizing their technologies comply with the AdSense guidelines because they are Google Certified Publishing Partners. Ezoic does not require you to have an AdSense account, but if you do, it must be in great condition, as Ezoic cannot approve sites that AdSense has banned due to policy breaches. Ezoic does not seek websites that are primarily corporate or e-commerce in character but rather sites that are informative and content-rich, creative, and appealing. But it can be taken into consideration if your website is a blog that is connected to an online store.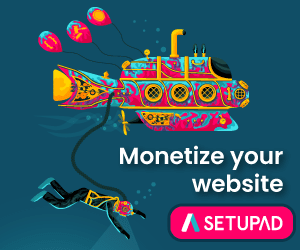 Features
Each level offers more ad partners, the highest revenue guarantee, more perks, and progressive resources like devoted employees and subject matter experts.
As you develop, you may open up additional premium monetization options, link your current ad networks, automate advertising testing, and access top-performing advertising partners.
Ezoic makes use of powerful data science models created specifically for SEO to make it simple for websites to test and apply improved title tags.
With a lightning-fast cloud designed for publishers, you can instantly distribute sites. It has cutting-edge security features designed specifically for ad-serving sites, as well as Core-Web-Vital-friendly ad serving.
5. Automatad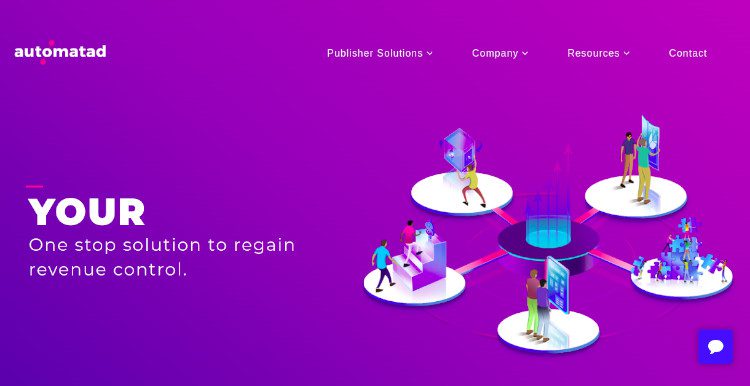 Automatad is a publisher-focused firm that offers the most comprehensive package of programmatic monetization technologies on the market today. Because of its subject-matter expertise and the reliability of its solutions, it is now handling the programmatic requirements for more than 100 publications worldwide. Prebid Wrapper and Adapter, Header Bidding integration with AMP, Ad Refresh, and a cutting-edge Yield Management Platform are some of the monetization tools in its suite.
Features
Utilize the unique demand generated by Automatad's demand partnerships. Connect with over 50 SSPs, DSPs, and a consistent stream of top-notch advertisers.
All ad sizes and formats are supported, including display, native, instream, and outstream video. Receive a single payment each month in a handy format and currency for all of your advertising.
Reduce latency by making a single call to a server-side sale where each bidder has an equal chance of winning. Boost performance visibility and gain important insights that help to increase revenue.
Gain access to data-driven account management assistance and specially designed solutions. Keep in touch with an account manager to discover answers to your adops questions.
Google personally selected Automatad because of its track record of assisting Canadian publishers in succeeding through the use of cutting-edge technology, devoted adops knowledge, and other value-added services.
6. iZooto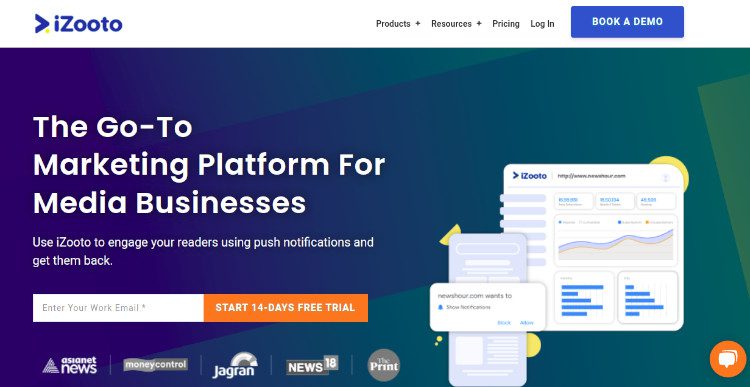 iZooto is a solution for owned audience marketing that uses push notifications as a channel to assist Canadian publishers in building, owning, and engaging their audience. With the help of iZooto, Canadian publishers can control their audience and rely less on Google and Facebook. To encourage recurring visitors and increase the revenue from their current display advertising, publishers connect their audience with targeted and automated alerts. Canadian publishers can also use notifications to push adverts to their audience and increase their income.
You can own, engage, and keep your audience with the help of iZooto. They evaluate your marketing requirements and make sure you can automate and personalize your engagement. You may directly communicate with your audience with iZooto, increase traffic to your website, and increase sales.
Features
It assists you in re-engaging website visitors using highly contextual website push notifications.
Through carefully chosen app push notifications, you can capture your consumers' full attention.
You may enhance Facebook reach and engagement by avoiding the Facebook algorithm.
With a customized notification inbox, it can improve how easily people can find content on your website.
It turns casual browsers into interested readers, increasing page views.
7. Propeller Ads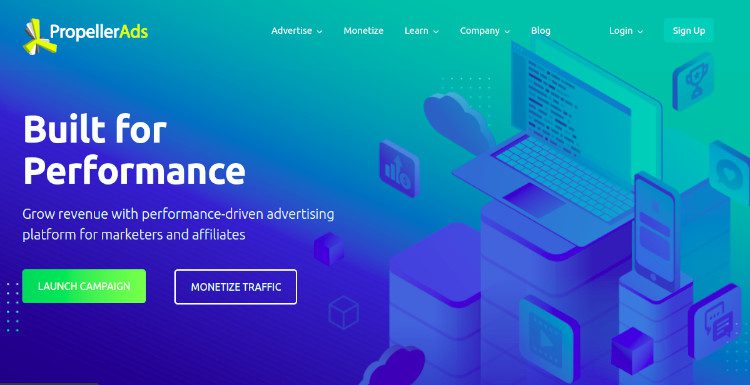 Along with affiliate services, Propellerads also offers display, native, video, and smartphone ads. PropellerAds claims to offer the highest CPM rates in the industry with eight years of experience and having worked with over 150K publishers. In-house algorithms created by PropellerAds allow for improved user and advertiser matching. PropellerAds serves as both a publisher ad network and a self-serve portal for advertisers to build and design advertising campaigns.
Canadian publishers may easily write and paste ad codes with PropellerAds, and the software is simple. However, the business also offers personal account managers for additional services.
Features
PropellerAds claims to monetize 100% of online traffic through its global advertiser pool. This means that advertisers may want to target a specific native language audience with their adverts on websites with non-English content.
PropellerAds keeps an eye on the caliber of the adverts on the website with the aid of automation and technology. The same method is used to filter out ads containing malicious code and pornographic content so that viewers only see high-quality, risk-free adverts.
For improved ad income monetization, the majority of Canadian publishers collaborate with various networks (including Google AdSense). PropellerAds built its infrastructure with AdSense on the publisher's website in mind, and it integrates seamlessly.
Publishers lose money as a result of ad blockers. Publishers may monetize ad block users with Propeller Advertising's Adblock Bypass by substituting non-intrusive display ads for the usual ones (like native ads).
With regular meets for idea sharing and to assist publishers in expanding their companies, Propeller Ads maintains an online publisher network.
The Bottom Line
Ad networks work with both publishers and advertisers to help you both reach your goals. One of the best ways to select one ad network is to consider metrics like the quality of ads, ad formats offered, the technology used, and more. Here is a list of some of the best ad networks for publishers in Canada that you can rely on for effective monetization.
Our Recommended Tools for Publishers:
Looking to Increase your Ad Revenue:
Get in touch with me for a personalised consultation and increase your ad revenue across native, display, video (instream and outstream), in-app and other verticals. I also assist in customized DFP setup, header bidding, and content creation strategy. My skype id is:
ronniedey
. Feel free to connect!

I and my team research various ad networks and can help you increase your overall ad revenue; so you could rake in more greenbacks with the best monetization platforms. Tap into the power of the online publishing business with me. I am just a mail away, so reach out to me if you want to scale up your website revenue. mail: [email protected]