Push ads have become extremely popular now, and given their volume, they will only grow because they are the sure-bets for people who wish to take their ad campaigns to the next level. At its essence, push notifications are really good communication tools to engage with users, so brands can certainly use push marketing strategies. However, it is important to use innovative campaigns with appealing creatives and good titles if you want to make it. Here, the impressions are cheaper to buy, and conversions are comparatively higher in comparison with other traffic sources, but the idea is to inspire users to take action. It is a big pro that push notifications can help you engage with users' interests in a way like no other format.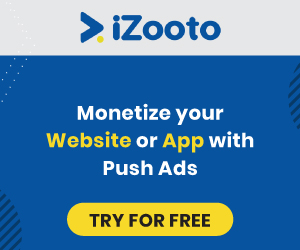 Table of Contents:: Summary
hide
10+ Best Push Notification Ad Networks for Publishers (2022 Update)
Check out our list of the best push notification ad networks for publishers that you can rely on.
1. iZooto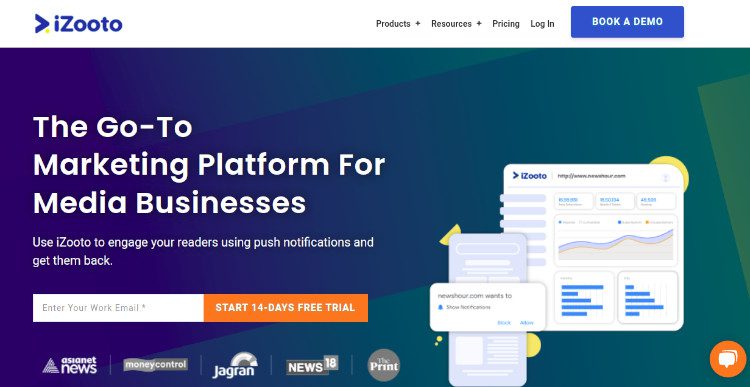 iZooto is a solution for owned audience marketing that uses push notifications as a channel to assist publishers in building, owning, and engaging their audience. With the help of iZooto, publishers can control their audience and rely less on Google and Facebook. To encourage recurring visitors and increase the revenue from their current display advertising, publishers connect their audience with targeted and automated alerts. Publishers can also use notifications to push adverts to their audience and increase their income.
You can own, engage, and keep your audience with the help of iZooto. They evaluate your marketing requirements and make sure you can automate and personalize your engagement. You may directly communicate with your audience with iZooto, increase traffic to your website, and increase sales.
Features:
It assists you in re-engaging website visitors using highly contextual website push notifications.
Through carefully chosen app push notifications, you can capture your consumers' full attention.
You may enhance Facebook reach and engagement by avoiding the Facebook algorithm.
With a customized notification inbox, it can improve how easily people can find content on your website.
It turns casual browsers into interested readers, increasing page views.
2. Feedify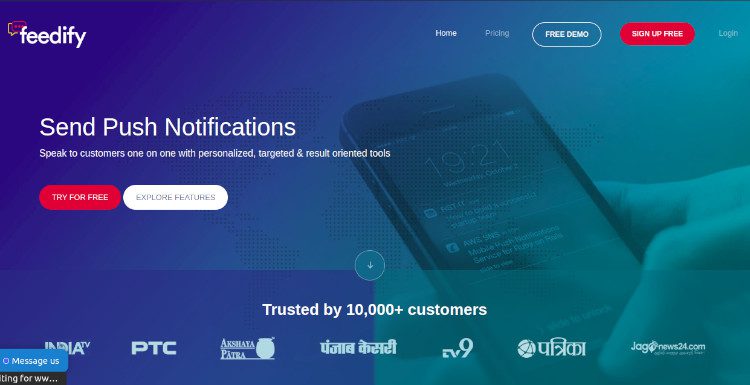 The fact that Feedify is a full-service solution sets it apart from the other significant web push notification systems available today. Feedify has all the capabilities businesses and organizations want in a single, condensed package, unlike other services and software that charge for additional tools and components.
Users can connect with their clients with Feedify, expand their clientele, and increase sales and growth. Feedify is the game-changer when it comes to pushing notifications and Monetization. More than 4,000 businesses utilize it to run their push notification systems.
You can get innovative consumer engagement tools for your website from Feedify. It integrates web push notifications, cross-channel consumer feedback, exit intent, and drip marketing with strong customer analytics.
Feedify offers a simple dashboard from which it is possible to automate the management of client engagement tools. Through the use of geolocation, browser, device, nation, time zone, and other filters, Feedify enables the creation of notifications, pop-ups, surveys, and feedback tools (before and after sales).
Features:
This platform offers a hassle-free, all-in-one cloud engagement platform for your consumers.
With effective engagement technologies, you may target customers depending on their behavior.
It presents real-time statistics and reports, and it takes immediate action.
Its distinctive Feed Forward System allows you to receive comments from across the channel.
3. RUNative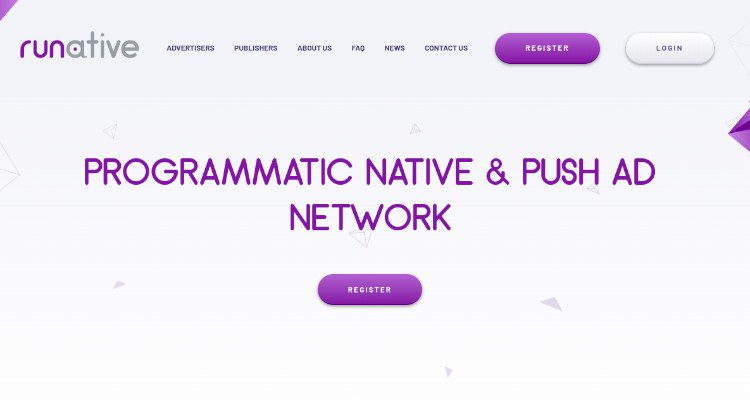 RUNative is a group of online marketers with extensive expertise in affiliate marketing and technology. The platform uses sophisticated algorithms to match the right publisher with the type of offer you are running. In addition to giving affiliates access to publishers that are best suited for their campaigns, this gives them a complete choice over where they want to place their advertising.
This provides you with a useful summary of premium ad slots on top-performing domains, together with a daily impression count for native, push, and regular banner ad formats.
RUNative is dedicated to providing advertisers and publishers with high-quality traffic and deals, in contrast to rival native ad networks. As a result, they provide the perfect ad network for affiliate marketers who are looking for publishers that would support their offers and traffic from rich, untapped sources.
Features:
This platform helps advertisers maintain complete control over their campaigns and the specific locations where their adverts are displayed;
It lets you select from high-performing Push Notification settings and RON or Premium ad slots;
You can quickly convert publishers in well-known sectors like gaming, dating, and sweepstakes can use this ad type.
Publishers receive weekly rewards, and affiliates may get started with just a $100 deposit. You'll also be given access to your own account manager, who will provide support and industry knowledge while helping you optimize your campaigns and improve network performance.
4. Pushnami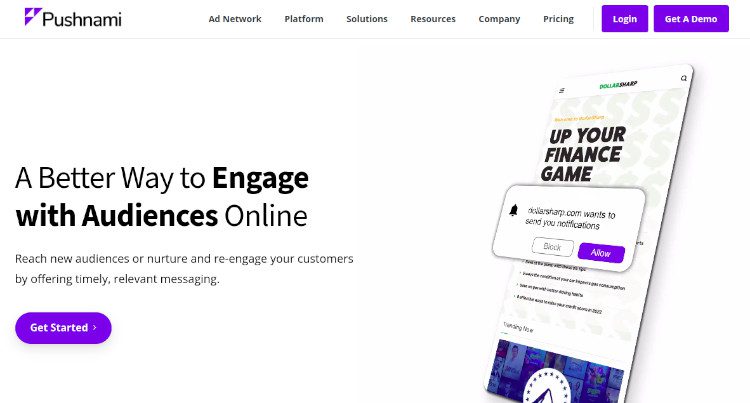 Pushnami is a messaging platform with AI that offers superior performance for email, social media, and push notifications. Utilize the Pushnami platform to boost sales conversions, automate cross-channel communications, and increase user engagement and retargeting. The technology may be used in a variety of industries, from the automobile to e-commerce, and is best fit for enterprise-level websites with more than 500,000 monthly visits.
Pushnami allows businesses total control over their audience across all devices thanks to an approach to traditional advertising channels that is unique in the industry, integrated with machine learning and patented data identification technology. Pushnami is used by more than 30,000 websites worldwide to deliver 20 billion notifications each month, which brings in millions of dollars in actual income for the websites.
Features:
The market-leading push notification ad network aids in helping you increase the reach of your offers.
Push notifications that are sent from within a browser can help you stay in touch with your audience and increase sales.
Utilize subscriber-based nurturing and communications to keep website visitors interested and strengthen your brand.
Promote your articles in the top employment network for push notifications to increase traffic to your listings.
Deliver breaking news items straight to your most engaged readers to increase readership and income.
Customer interaction and nurturing with Shopify is the simplest way to get started.
5. SendPulse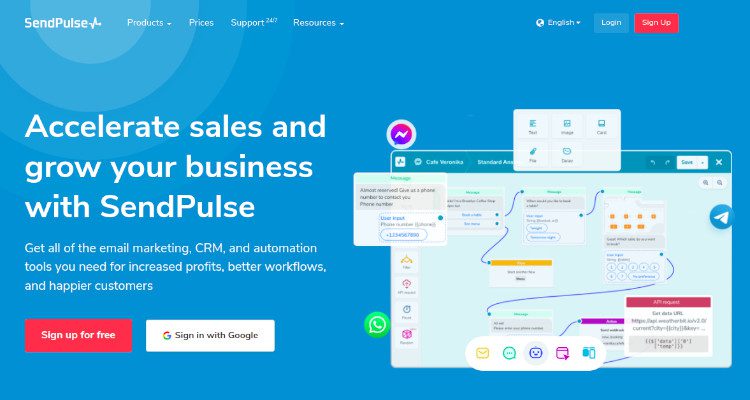 With SendPulse, users can handle email, text messaging, and push alerts from a single platform. SendPulse is a cloud-based marketing system. Small and midsize businesses can use it. Users can create emails using a drag-and-drop editor and pre-made templates with SendPulse's email functionality. The effectiveness of users' email campaigns can be evaluated using A/B testing software. To further help ensure email delivery, SendPulse also offers email servers with reputable IP addresses. The SendPluse push notification tool allows users to instantly and individually notify consumers' smartphones.
Users can send texts to more than 200 countries with SendPulse's text messaging service. A user-defined plan can be used by the messaging service to deliver texts automatically. When to message clients can be decided with the aid of predictive analytics technologies. Support is offered over the phone, by email, and through an online knowledge base. You can purchase SendPulse on a pay-per-use basis or as a monthly subscription.
Additionally, SendPulse offers all customers a live chat service that is available 24/7, as well as an extensive knowledge library that includes articles and videos that walk users through using various features in detail.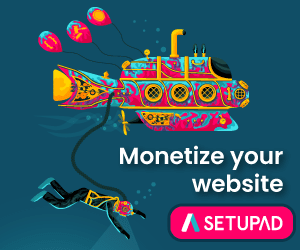 All users, even those on the free plan, have access to all of these assistance options. This is a wonderful feature for SendPulse because many other email marketing software products don't provide many support choices to users of free plans or lower-tier premium plans.
Features:
Create your email list using SendPulse by copying and pasting, uploading contacts, or adding each one individually. SendPulse has some incredibly helpful features to help you manage contacts better, like sophisticated filters that let you send more targeted messages.
SendPulse places a high value on personalization and adjusting messaging components in accordance with consumer data and behavior.
With the help of SendPulse's dynamic segmentation feature, consumers can be added and removed from segments based on their most recent activity.
SendPulse is brimming with helpful marketing automation and email marketing tools. Impressive features include contact management and smart segmentation, which can be used to find the ideal contacts for your campaigns and deliver more targeted emails.
6. Coinis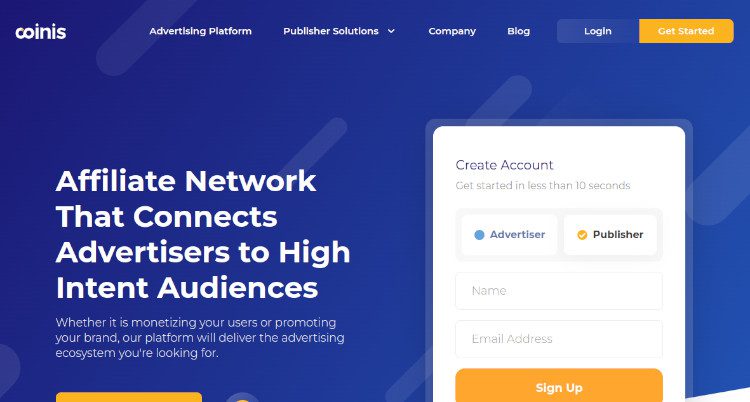 Coinis is an advertising technology firm that offers distinctive monetization options to its publishers and affiliates while offering its advertisers highly engaging ad units supported by precision targeting. They can discuss significant worldwide volumes and precise targeting when it comes to their push traffic, thanks to a sizable push base amassed over the course of four or more years.
Features:
It contributes to revenue growth by presenting intent-centric content through all top-converting formats, device types, and GEOs. Earn money by offering pertinent results via Search Feeds from potent search engines.
It provides ad forms such as push alerts to improve engagement.
By promoting offers with a high conversion rate, you can choose premium brands and monetize worldwide.
7. Push Monetization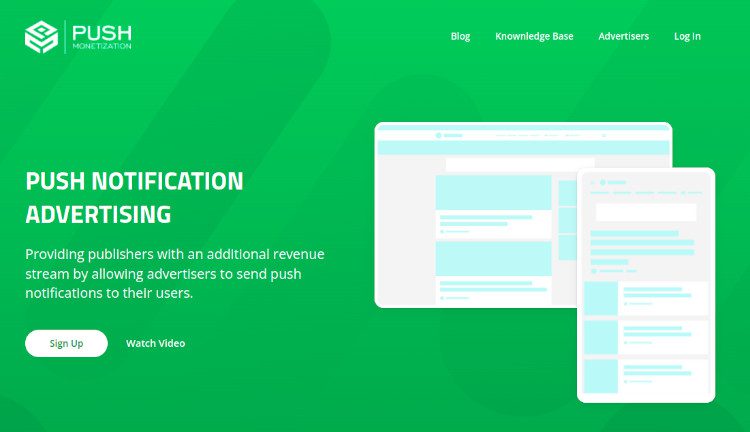 Push Monetization is an ad network for push notifications. It enables marketers to deliver push notifications to their subscribers and gives publishers an extra revenue source. Push monetization notifications draw users' attention and keep them satisfied and interested in your brand and its offerings. With just one click or press on the screen, consumers and subscribers can turn into potential buyers.
Publishers and marketers alike can benefit from push monetization by utilizing their incredibly effective web push technology. Push Monetization offers completely free registration, and on a weekly NET 3 schedule, the platform rewards you.
Push Monetization has made it possible for webmasters to generate extra income in a novel method by regularly updating and interacting with their existing client base about their goods and services. By utilizing cutting-edge technology, the system makes sure that nothing escapes the attention of your customers. Push Monetization has been efficient at increasing conversions by enabling you to target the precise demographic you know converts in addition to helping you acquire the volume you need.
Features:
The platform gives publishers an extra way to increase revenue from their websites and maintain profitability.
With the use of Push Monetization's web push technology, you may generate daily cash in the background without replacing any of your present ad units.
Push Monetization is quite simple to set up and integrate. If you run into problems during the integration process, their committed team will lead you through each step. They are always there to assist.
By accurately measuring the lifetime value of your customers over time, the platform enables you to ascertain how much money each individual user generates.
8. Rollerads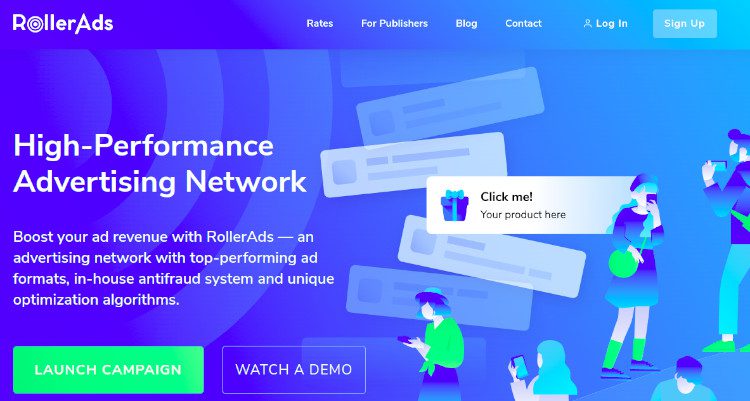 RollerAds is an ad network that specializes in push notification advertisements in order to provide advertisers with the best affiliate marketing methods and direct publishers with high website revenue. It is a recently launched advertising network that focuses on push notifications, a high-performance ad style. It was developed with the intention of making it simpler for marketers to find the best affiliate marketing tactics and assist publishers in monetizing their websites and generating significant revenue.
Through its precisely focused programmatic strategy and cutting-edge technology, it has nonetheless made incredible growth in such a short period of time and has already established itself as a top choice for more than 10,000 publishers and thousands of advertisers.
Features:
Roller Ads has 16 monitoring options, allowing you to fine-tune your campaign results as you optimize your campaigns and enhance ad performance after determining which ad channels are most useful to your business!
The latest trend in affiliate marketing, push notifications are of significant value to marketers in distributing their message and increasing sales. Roller Ads offers high-quality non-intrusive push notification ads.
Instead of using fraudulent bots, Roller Advertising has an audience that is 100% real and global in scope. Through their apps, Roller Advertising connects advertisers and marketers with their desired target audiences worldwide. With Roller Ads, you have a variety of targeting choices that assist you in connecting with relevant and interested audiences.
Through their user-friendly interface, Roller Ads gives you a complete record and straightforward statistics. You can easily keep tabs on your sales and success. You may monitor and make adjustments to your expenditure while staying within your budget.
With Roller Advertising, you can use industry standards to entirely free up potential clients while also having access to a large variety of free push notification advertising options. To obtain a better understanding of your performance, all you have to do at Roller Ads is register for a free account and make a request for particular creatives.
9. Propeller Ads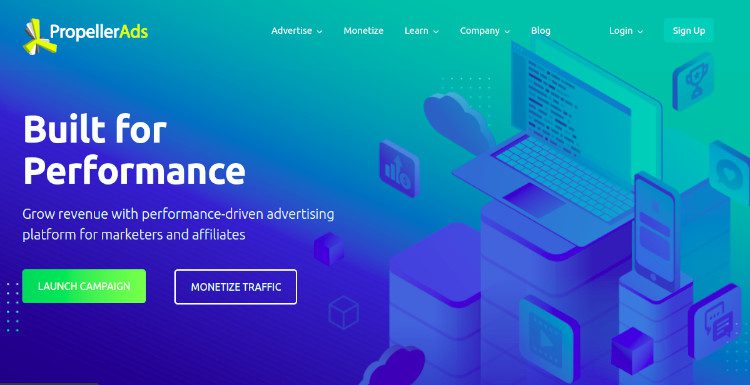 Along with affiliate services, Propellerads also offers display, native, video, and smartphone ads. PropellerAds claims to offer the highest CPM rates in the industry with eight years of experience and having worked with over 150K publishers.
In-house algorithms created by PropellerAds allow for improved user and advertiser matching. PropellerAds serves as both a publisher ad network and a self-serve portal for advertisers to build and design their advertising campaigns.
Publishers may easily write and paste ad codes with PropellerAds, and the software is simple to use. However, the business also offers personal account managers for additional services.
Features:
PropellerAds claims to monetize 100% of online traffic through its global advertiser pool. This means that advertisers may want to target a specific native language audience with their adverts on websites with non-English content.
PropellerAds keeps an eye on the caliber of the adverts on the website with the aid of automation and technology. The same method is used to filter out ads containing malicious code and pornographic content so that viewers only see high-quality, risk-free adverts.
For improved ad income monetization, the majority of publishers collaborate with various networks (including Google AdSense). PropellerAds built its infrastructure with AdSense on the publisher's website in mind, and it integrates seamlessly.
Publishers lose money as a result of ad blockers. Publishers may monetize ad block users with Propeller Advertising's Adblock Bypass by substituting non-intrusive display ads for the usual ones (like native ads).
With regular meets for idea sharing and to assist publishers in expanding their companies, Propeller Ads maintains an online publisher network.
The Bottom Line
Push notification is an easy and simple ad format to work with. There are some specific verticals that are working well right now, like dating, finance, sweepstakes, mobile games, and more, but you can easily use them for other offers too. You need to remember that the nature of push notifications is pretty personal, which makes it important for you to be very targeted in your approach. There is no sign that push notifications will slow down, so just rely on our list of the best push notification ad networks for publishers and use them.
Our Recommended Tools for Publishers:
Looking to Increase your Ad Revenue:
Get in touch with me for a personalised consultation and increase your ad revenue across native, display, video (instream and outstream), in-app and other verticals. I also assist in customized DFP setup, header bidding, and content creation strategy. My skype id is:
ronniedey
. Feel free to connect!

I and my team research various ad networks and can help you increase your overall ad revenue; so you could rake in more greenbacks with the best monetization platforms. Tap into the power of the online publishing business with me. I am just a mail away, so reach out to me if you want to scale up your website revenue. mail: [email protected]