When it comes to ad networks for publishers and bloggers, suffice it to say there is no dearth of options to select from. In fact, the dizzying array of choices and their alternatives can oftentimes lead to confusion. For starters, keeping up with the advancements in the adtech ecosystem definitely gives you an edge. But choosing the ideal ad tech network for your needs involves careful consideration of several factors apart from knowledge, such as your target audience, the quality of ads, considering the network's reach and ad formats, etc. Furthermore, it's a good idea to prioritize networks that provide optimal compensation and revenue sharing models for your content. We have compiled a list of the 7 best ad networks for bloggers and publishers in 2023.
1. AdPushup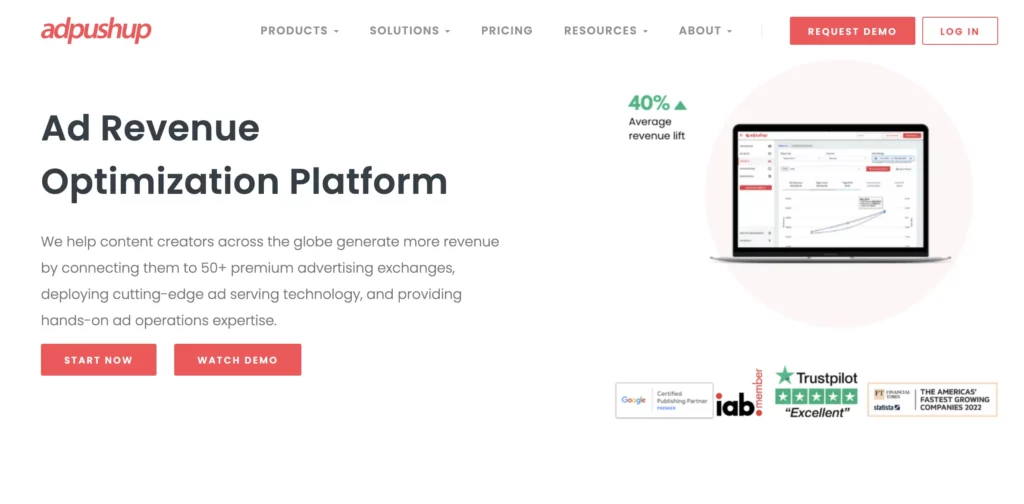 AdPushup has the best monetisation tools available on a single platform, along with the most recent ad technology optimization strategies, such as lazy loading and auto-refresh advertising. The platform uses automated A/B testing and optimization techniques to improve ad performance and user experience, ultimately driving higher CPMs and revenue for publishers and bloggers. The network usually charges a revenue share of around 15%.
Funded by Microsoft Ventures, AdPushup is an IAB member, a Google NPM Partner, and a registered member of the Trustworthy Accountability Group (TAG). You can consider them for blogs, news and media websites, marketplaces, classifieds, and many different publishing businesses.
Features:
AdPushup offers A/B testing functionality, allowing publishers and bloggers to experiment with different ad layouts, sizes, and formats. This feature allows publishers to find the ideal ad configuration that delivers the best user engagement and revenue generation results for their business.
You get multiple ad networks to compete for your slot, it is also easy to manage everything from one place.
They offer a fully-managed header bidding solution that helps implement client-side, server-side or hybrid header bidding.
AdPushup offers new generation ad formats like contend ads, docked ads, sticky ads and native ads to reduce banner blindness and improve viewability.
This ad network offers an automated AI-based first-party audience management solution that carries out contextual and interest-based audience segmentation and reporting for Google Ad Manager.
2. Monetizemore
Monetizemore works with a diverse set of publishers, from small website owners to large media companies, tailoring their services to meet the specific needs of your business. PubGuru, their award-winning programmatic ads management platform for publishers offers a range of tools and solutions to maximize revenue from digital advertising. As a Google Certified Publishing Partner, Monetizemore's objective is to help publishers extract the highest possible value from their online content and advertising inventory.
While ad revenue is the final goal, the platform also works on improving your website from different aspects including ad server, SEO, content quality, and more. They usually charge a revenue share of 15%. Monetizemore is ideal for niche bloggers, news publishers, high-volume websites and media houses looking for custom adops solutions.
Features:
MonetizeMore offers PubGuru, which helps you win the highest bid while assuring good user experience.
Helps you recognise your revenue variations by analyzing ad revenue across ad networks, websites, and UTMs, considering the source, campaign, and medium.
MonetizeMore offers the best revenue shares and payment terms, saving you time while giving access to exclusive ad networks.
Their invalid traffic protection via Traffic Cop eliminates revenue clawbacks and Google account bans.
The platform helps you get better revenue splits and payment terms, with access to specialized ad networks that require billions of ad impressions every month
MonetizeMore offers on-time payments on a net-30-day basis.
3. PubFuture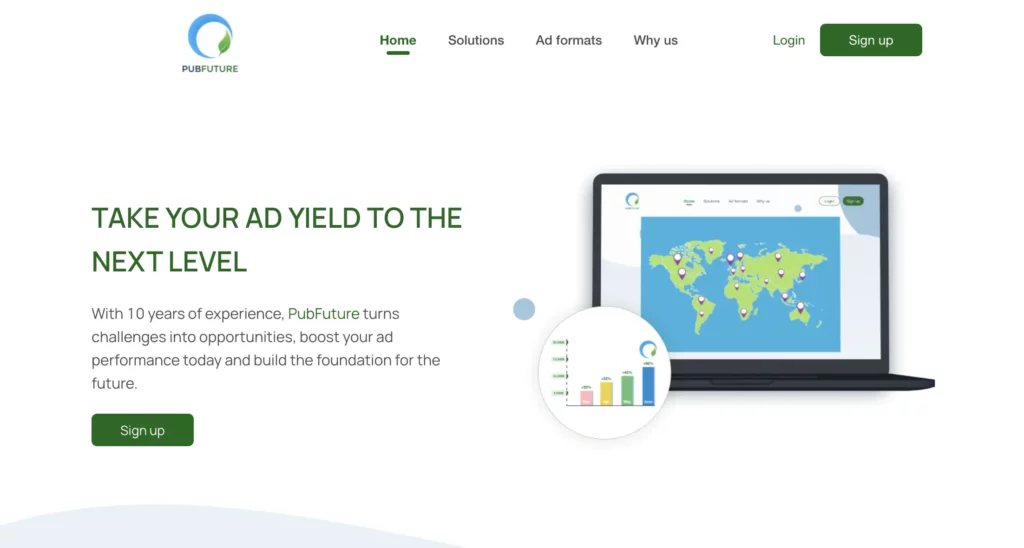 PubFuture is a prominent advertising network enabling publishers and bloggers to monetize their websites and maximize earnings from their online content. Their header bidding technology focuses on delivering highly optimised ads, enabling you to earn from impressions alone. The platform is a great alternative to AdSense, guaranteeing higher revenue, with superior quality ads and a comprehensive analytics dashboard.
PubFuture has a net-15 payment cycle and it is a great option for bloggers and entertainment websites along with many other industry verticals.
Features:
PubFuture's optimization techniques across various demand channels enhance user experience with precisely targetted ads as per audience relevance, ensuring the maximum value for each impression.
Their transparent analytics gives you a comprehensive overview of all the relevant statistics, from real-time reporting to other performance metrics.
The platform offers a 5% lifetime commission to publishers for referrals.
PubFuture's professional plan guarantees up to 200% revenue growth.
4. Adnimation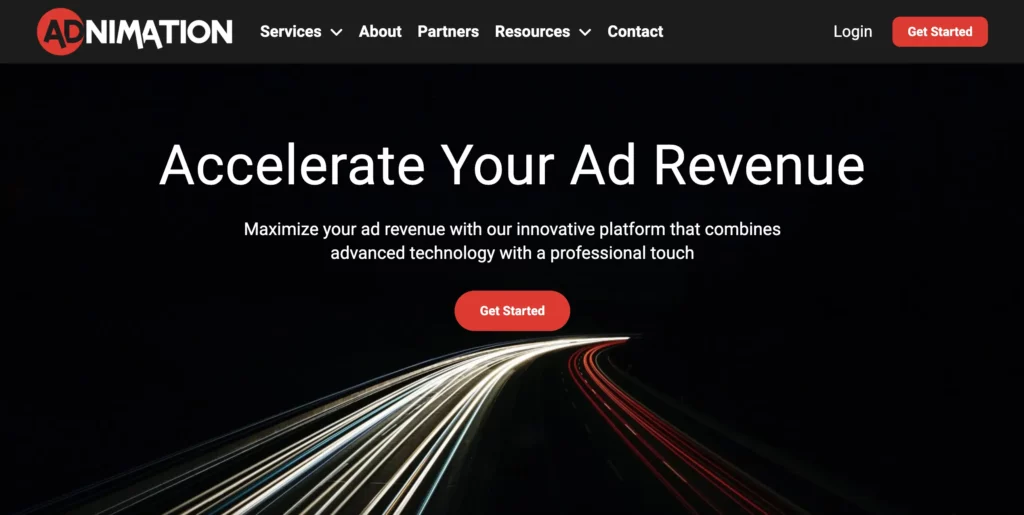 Adnimation offers publishers a personalized and comprehensive monetization solution, including hybrid header bidding, video ads, native ads, and display ads. Adnimation stands out as a uniquely transparent platform – rather than showing creators only their net revenue, it shows them their gross revenue so they can have a complete understanding of their earnings. With this platform, creators get the advantage of receiving the best solutions, regardless of size, as they do not categorize services based on tiered plans.
Adnimation is a great ad network for publishers and bloggers, with high CPMs and more than 5 billion monthly ad impressions across six continents. They are a Google Certified Publishing Partner (GCPP) as well as a Google Multiple Customer Management Partner (MCM)
Features:
Adnimation has no lock-in contract period. They believe that creators should stay because they want to, not because they have to.
The platform offers all the necessary tools and features required for effective monetization.
Creators can see their gross revenue so they know exactly how much they are earning.
An easy-to-use dashboard that allows creators to closely monitor their results.
Adnimation operates on a revenue share basis, and offers on-time payments on a net-35-day basis.
5. Sulvo
Sulvo is a programmatic ad server that delivers on-target metrics on revenue and engagement. Their containers prevent revenue loss by recapturing adblock visits, serving special formats, and maximizing auction participation by including as many of your buyers as possible. Sulvo's tools and solutions aim to enhance the user experience while delivering effective monetization strategies through ad layout optimization and integrations with multiple demand sources. They offer an easy setup, with auto-refreshing ads, fluid banners, and sticky ad formats.
Salvo offers granular control for publishers and bloggers to optimise the user experience and ad-loading behaviour. They usually charge a revenue share of 30% on their demand. However, you can use connectors and bot filtering features for free.
Ideal for websites that want to balance user experience along with ad revenue, Sulvo performs best on tech, news, entertainment, lifestyle, health, and finance verticals.
Features:
Offers an Unblocker that increases your ad revenue by detecting if visitors are using an ad blocker and, if so, showing various options to contribute.
Offers custom formats that optimise your stickies, interstitials, and auto-responsive units
Offers specially built connectors that can connect demand from all over the world and allows you to add your own campaigns, and combine them with hosted Prebid connectors.
Offers advanced, format-aware ad controls like ad refresh, lazy loading, frequency capping, geo controls and more.
Offers bot scoring and filtering tools that help you assess the quality of impressions before sending it to the buyers, improve site reputation score and increase revenue.
6. WhizzCo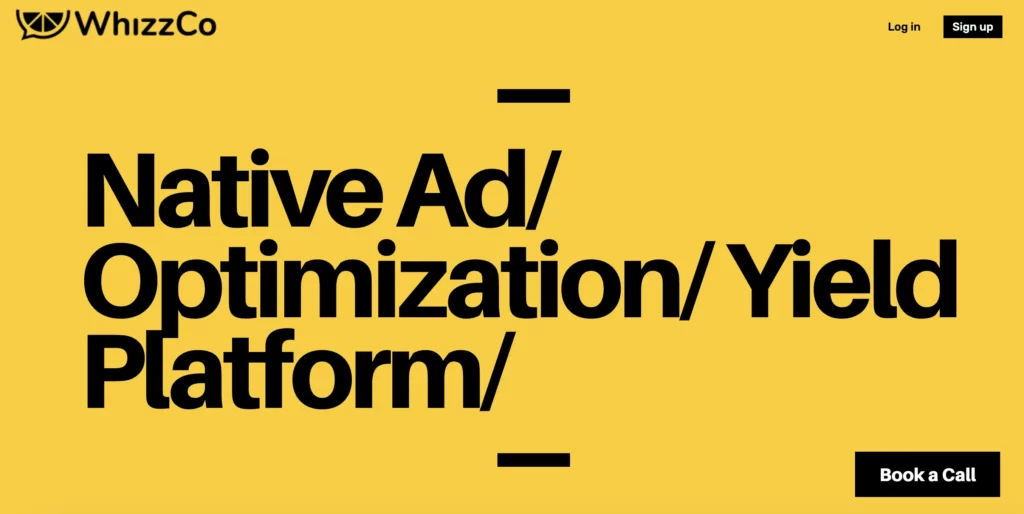 WhizzCo's comprehensive solutions integrate network mediation, ad serving, and AI optimization to enhance content revenue optimization. Through a unified dashboard, the platform provides an ecosystem for displaying content recommendation advertising as well as measuring and optimizing performance. WhizzCo maximises publishers' earnings by expanding the content suggestion market and ensuring full transparency. This empowers publishers and bloggers to select the ideal inventory with the most suitable content network partner for their business. This platform is ideal for publishers who want to increase revenue from content recommendations.
Irrespective of the size of your website, WhizzCo works with mid-size as well as small businesses, along with enterprises, freelance and non-profit verticals. This ad network claims to lift CPMs by at least 40% and operates on a net 30-day payment cycle.
Features:
WhizzCo's instream video provides high-quality advertising with high fill rates and CPMs, which are supplied by various competitive video ad suppliers. Furthermore, because WhizzCo is a Google MCM Partner, you may take advantage of preferential rates through Google AdX.
This unified monetization platform enables 40+ native content and video ad suppliers in over 150 geos and across all platforms.
WhizzCo's ML yield engine has already optimized over 50 billion impressions. It enables bloggers and publishers to collaborate with their preferred content suggestion partners.
7. Snigel
Snigel is a leading ad network with a wider range of solutions for publishers and bloggers, such as native video, smart ad refresh, next gen ad formats, PMP deals, and more. The platform's tailored solutions aim to optimize revenue streams through access to premium advertising campaigns as a Google MCM and Google AdX partner. Single is regarded as one of the best available substitutes for AdSense and anti-AdBlock tools, and delivers consistent CPMs compared to many of its larger rivals.
Snigel partners with over 30 of the world's largest SSPs and Exchanges while maintaining complete neutrality when it comes to demand. To maximize the value of your ad inventory, they ensure that the ad with the highest bid gets displayed on your website. Snigel operates on a straightforward 80/20 revenue-sharing model, ensuring publishers receive 80% of the total ad revenue, however, they only accept high-quality publishers with good content.
Features:
Single adapts their services to your needs, whether it is using the video content you already have or syndicating content that's related.
Their team builds a unique monetization strategy based on your needs, with everything from header bidding to native video, Smart Refresh, and Adaptive Ads, to make the most of every impression you get.
The private marketplace (PMP) team is totally committed to collecting as much premium PMP ad spend as they can on your behalf, to ensure more targeted media buys and higher CPMs.
Where appropriate, they also incorporate interactive ad formats like "Quiz Style" units to encourage participation and interaction.
Snigel is IAB-approved and in full compliance with GDPR, CCPA, and Google user consent policies.
The Bottom Line:
Settling on the right ad network for your business is an essential for maximizing revenue and ensuring a positive user experience. The above reviewed ad networks offer a balance between high-quality ads, transparent revenue-sharing models and the most recent technology. By considering factors such as ad formats, targeting options and reach, publishers and bloggers can make informed decisions to boost their earnings effectively.