Advertising is the primary source of income for a large number of blogs and big traffic sites, which includes Google AdSense and its alternatives, Affiliate Ads, and Direct Ad sales. The major problem that several people encounter is that advertising is difficult to maintain and manage monetization strategy. Fiddling with the AdSense code and WordPress theme can be very chaotic. The easy fix to this issue is to set up one of the best AdSense plugins for WordPress on your site. You should not forget to optimize the ads for mobile.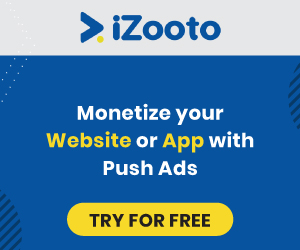 Table of Contents:: Summary
hide
7 Best Google AdSense Plugins for WordPress: 2022
Here are some of the best Google AdSense Plugins for WordPress that can help you boost your blog revenue with an all-rounder ad management solution.
1. Advanced Ads: Best Sticky AdSense Plugin for WordPress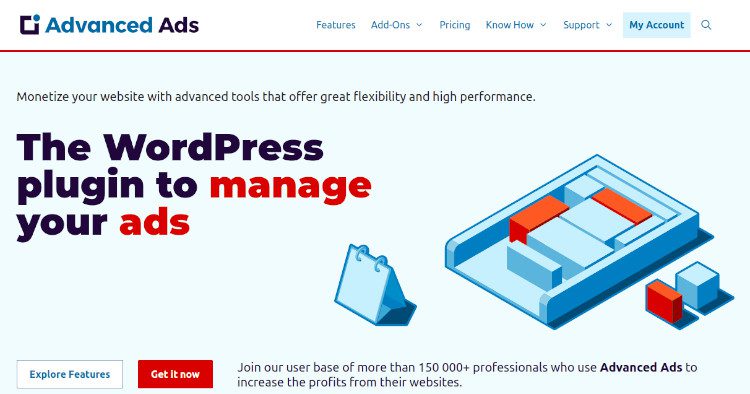 Using Advanced Ads, you can monetize your website with advanced tools that offer great flexibility and high performance. It helps in easily managing your ads and showing them in the right places, and targeting the right users. Their automatic placements make sure ads appear without you having to touch the code of your theme or go into existing posts. The reports on ad impressions and clicks help you focus on your best-performing ads, identify the winners in A/B testing and give you credibility with your ad clients.
Features:
Manage and display an unlimited number of ads, rotations, and placements.
Use any ad network, static images, JavaScript, HTML, PHP, or shortcodes.
Target specific user groups and pages on your website to deliver the best-performing call-to-actions.
Plan your ad campaigns with start and expiry dates and times.
Compatibility with any caching solution plus optional lazy loading keep your website fast.
See impressions and clicks in your WordPress dashboard or combine them with your Google Analytics metrics.
Send reports directly via email or link to your clients and receive summarized reports in your own inbox.
Import AdSense and Google Ad Manager ad units without copying & pasting any code.
Rotate ads and placements to find the best-performing ad units and positions.
Use rotations and random paragraphs to increase the attention to your ads.
Click Fraud Protection and AdSense warnings to help you secure your accounts from violations.
Use pre-defined integrations for your favorite membership plugin or theme, or build your own using more than 100 hooks.
Pricing: The plan Advanced Ads Pro is ideal for small businesses and bloggers who want to increase their revenue from ads and will cost you 49  Euros per year. The plan Advanced Ads All Access/ Single Site is ideal for professional publishers to increase revenue and save development time and will cost you 89 Euros per year. The plan Advanced Ads All Access/ 2-5 sites is ideal for large publishing companies and agencies managing multiple sites and will cost you 129 Euros per month.
2. Quick AdSense: Best AdSense Plugin for WordPress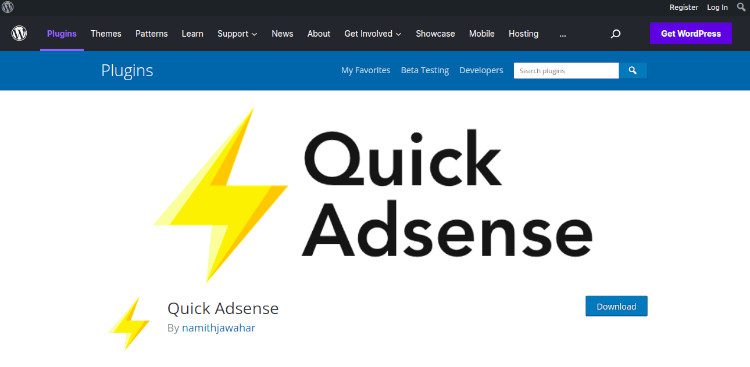 Quick AdSense is an excellent ads management WordPress plugin that offers a faster and more flexible way to insert AdSense or any ad codes into a blog post, and it can randomly place ads anywhere in a post. It has a simple setting page that would not complicate the given options.
Features:
No author revenue reward or revenue sharing from your Adsense.
Allows you to assign ads to the beginning of a post, assign Ads to the middle of the post, assign Ads to the end of a post, assign Ads after the 'more' tag, assign Ads before the last paragraph, assign Ads after certain paragraphs (3 options available) and assign Ads after certain images.
Offers flexible Ads placement and inserts Ads specifically or randomly anywhere within a post.
Offers a simple configuration interface and requires no coding knowledge. You have to just copy and paste the AdSense code, tick, and select options; the plugin will then do the rest for you.
Support any Ads code, not limited to Adsense code only.
It can display up to a maximum of 10 Ads on a page. Google allows publishers to place up to 3 Adsense Content on a page. If you are using other Ads, you may display up to 10 Ads.
Support up to a maximum of 10 Ads codes on Sidebar Widgets.
Support up to a maximum of 10 Ads codes for specific placement and randomization within a post.
Pricing: This is a free plugin.
3. AdSanity: Best Google Adsense Plugin for WordPress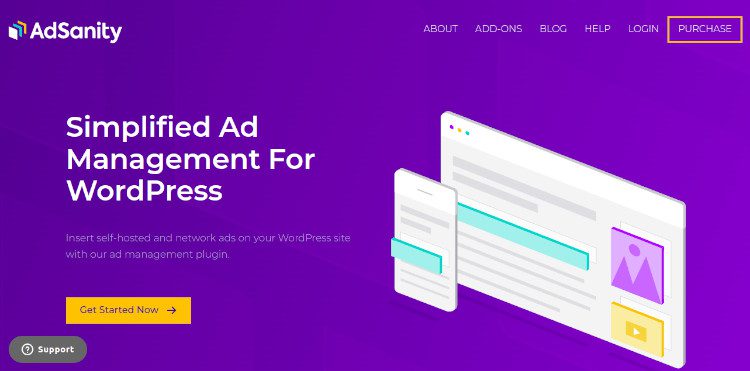 AdSanity truly simplifies ad management for WordPress. You can insert self-hosted and network ads on your WordPress site with their ad management plugin. They also have a dedicated help site with documentation and examples, as well as a support ticket system with a 3.5-hour average time-to-first-response and a 97% satisfaction rate. It allows the user to create and manage ads shown on a website as well as keep statistics on views and clicks.
Features:
AdSanity was designed to be light and fast. Many features can be added through their add-ons, but only the core features are included until you need more.
Some sites do require extra functionality, so they developed a suite of add-ons to augment the core feature set.
On a per-ad basis, admins can quickly learn how ads are performing on the site. Admins can also call up custom stats for selected ads in a defined date range.
HTML5 ads are on the rise, and AdSanity is ready to handle your modern advertising needs.
AdSanity currently allows for two publishing options – infinite or date-based. Admins can set begin and end dates for individual ads.
With widgets, easily accessed shortcodes, and template tags, you are able to place your ads anywhere on your site.
Built from the ground up by developers with WordPress developers in mind, they have included actions and filters developers can use to customize and add to the power of AdSanity.
Pricing: At $499, you can get AdSanity for a lifetime. It comes with the core plugin, core plugin updates, access to all the basic add-ons, access to basic add-on updates, and more. Their most popular plan is their Pro plan which will cost you $179 per year. Their Basic Plan will cost you $59 per year.
4. Ad Rotate: Best AdSense Ads Plugin for WordPress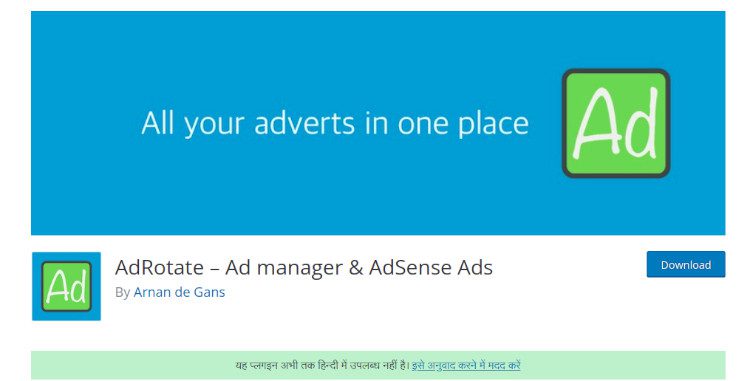 AdRotate is an excellent advert manager that comes with an easy-to-use dashboard that can help you manage all your ads and affiliate campaigns. It is easy to set up and use and is built for your website and theme. It offers powerful features for newcomers and veterans and helps you manage ads and banners like a professional.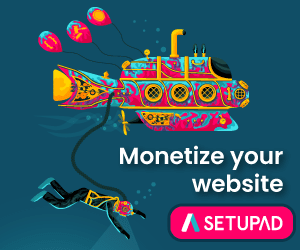 Features:
Works with any advert
Place your advert campaigns anywhere on your site
Easily manage ads
Easily manage Groups for ads
Easily manage Assets and media
Track clicks and impressions and calculate the Click-Through-Rate (CTR)
Disguise ads from ad blockers, so they're less likely to be blocked
Automagically disable Ads after they expire
Use shortcodes anywhere they are supported in WordPress
Place widgets for single ads or groups of ads
Insert PHP snippets in your theme files to put ads anywhere on your site
Dashboard and Email notifications when ads are about to expire or need attention
Easily set up groups of ads in a grid, column, or row
Preview ads when editing
Advert statistics
Automatically delete short-running ads and stats after they expire
Advertisers can add/edit/manage their own ads.
Pricing: This is a free plugin.
5. Ad Inserter: Best AdSense Management Plugin for WordPress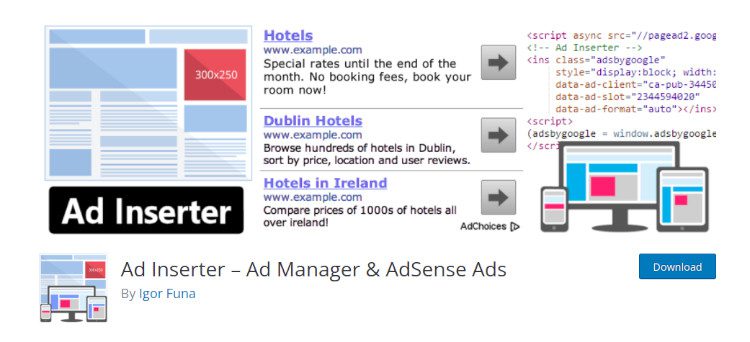 AdInserter is an excellent ad management plugin with several advanced advertising features to insert ad codes at optimal positions. It supports all kinds of ads, including Google AdSense, Google AdManager, contextual Amazon native ads, and more. This is more than just an Adsense plugin and provides several advanced options. 
Features:
Intuitive user interface
All settings on a single page
Insert any code anywhere on any page
What you see is what will be inserted
Fast processing with no overhead
Simple troubleshooting and debugging
Advanced automatic insertion of ads
Google AdSense, Amazon, Media.net, banners, and all other ads
Insert HTML, CSS, Javascript, PHP code
Insert opt-in forms, header and footer scripts, analytics, or tracking code
Insert before, inside, or after any HTML element on any WordPress page
Ad statistics with reports in PDF format
Impression and click tracking
Country, state, region, and city-level geotargeting
Ad blocking detection and statistics
Ad blocking actions: pop-up message, ad replacement, content protection
Click fraud protection (cookie-based + IP address block)
Ad rotation optimization based on CTR
No layout shift because of inserted ads for better CLS.
Pricing: Buying Ad Inserter is easy. There is a one-off payment for the license period of one year. You can get their Personal plan for 20 Euros that you can use on two sites. Their Freelancer plan can be used on five sites and will cost you 30 Euros. Their Business plan can be used on twenty-five sites. The Corporate plan can be used on a hundred sites and will cost you 100 Euros. 
6. Ads Pro: Best Google AdSense Plugin for WordPress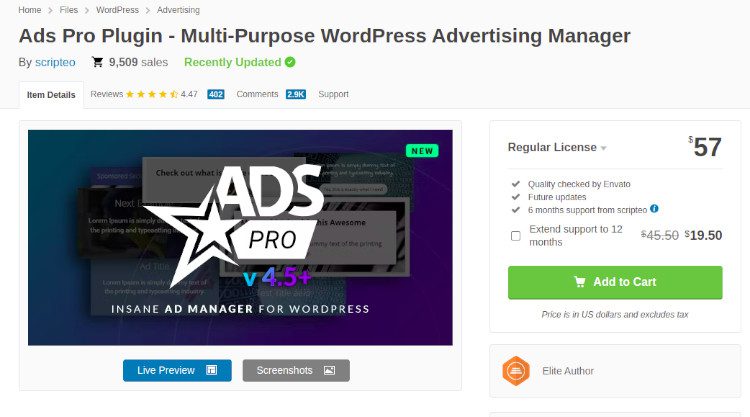 The premium WordPress ad plugin Ads Pro helps you manage, sell, and display your advertising space in a way that no other plugin can. It is an incredible tool that supports a template and grid system to show relevant and user-friendly ads on your site. It is absolutely free from ad blocks and helps you display your banners in more than twenty ways. 
Features:
Helps manage unlimited ad spaces and sold ads. The whole panel is very intuitive, so you will save time.
Allows you to add tasks to show or hide ads and ad spaces automatically at a specified time and date.
You can use 25+ Pre-defined Templates or create custom sizes of Standard ads via Ad Creator.
Users can manage their ads, and you can assign access to manage ads or free advertising.
You can, in a really easy way, Translate whole sentences and change Currency.
You can really quickly compare ads and choose the best with a higher CTR.
You can Show / Hide Ad Spaces for specific Countries, Provinces, Cities, and Zip-codes.
You can Show / Hide Ad Spaces for specific Categories or Tags.
You can Show / Hide Ad Spaces for specific Devices (mobile, tablet, desktop).
Pricing: They offer a regular license which will cost you $57 for a lifetime, and it is suitable for personal use. The extended license is ideal for business use and will cost you $199 for a lifetime license.
7. Ads Plugin by WP QUADS: Best AdSense Plugin for WordPress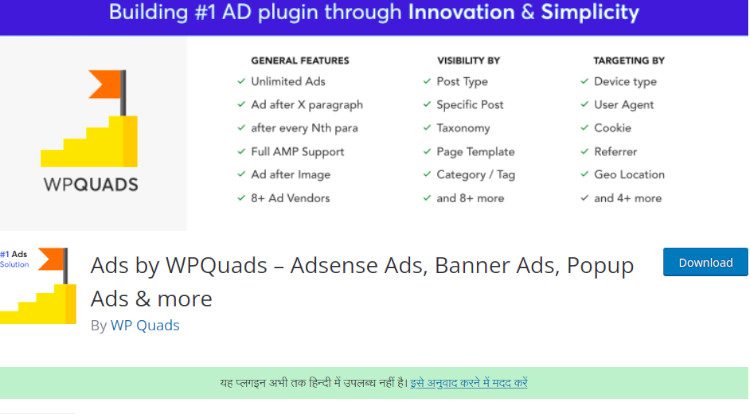 Description: The most feature-rich and advanced ad inserted and AdSense solution built for WordPress, WPQuads is a legendary plugin with a modern approach to Ads solutions. It is coded well with no overhead and is primarily used on huge websites that have millions of monthly page impressions.
Features:
Show AdSense adverts with a simple click on your Accelerated Mobile Pages (AMP)
Your ads fit perfectly, no matter if your website is visited on mobile, tablet, or desktop devices. Choose specific ad sizes for any device or use automatic mode to detect the best ad size.
Specify if ads are shown on mobile, tablet, or desktop devices. Hide & show ads on custom post types and user roles
Supports WP Rocket, W3 Total, and any other Caching plugin.
Ask an AdSense Expert and get answers to your questions quickly.
Define the margin separately for all four directions around your ads (top, right, bottom, left).
Add the word "Advertisements" above or below any ad
Speed and fast loading times are important for user experience and search results. WP QUADS is developed well and keeps the speed of your site.
They focus on the important stuff and keep it clean and simple. WP QUADS Pro makes it extremely easy to deliver well-converting ads to your audience.
Detect if your visitors are using an ad blocker and show them a customizable message. Plus, Google Analytics integration measures how many of your total visitors are using ad blockers.
Add as many ads as you like to your WordPress website. There are no limitations.
WpQuards Pro lifts the ten content ads limitation of the free version.
Pricing: Their Ultimate plan is for unlimited sites and will cost you $449. The Pro plan is for unlimited sites and will cost you $199 for a year. The Business plan can be used for five sites and will cost you $139 for one year. The Personal plan can be used for one site and will cost you $89 for a year. 
Roundup
These are some of the best AdSense Plugins for WordPress that can make advertisement management on WordPress easy. Some of these plugins are free and can be extended with additional premium features. There must be no excuses for better testing ad placements, A/B testing, and ad optimization for mobile.
Our Recommended Tools for Publishers:
Looking to Increase your Ad Revenue:
Get in touch with me for a personalised consultation and increase your ad revenue across native, display, video (instream and outstream), in-app and other verticals. I also assist in customized DFP setup, header bidding, and content creation strategy. My skype id is:
ronniedey
. Feel free to connect!