According to the alternate definition provided by dictionary.com, an audience is a person reached by a book, radio, or television broadcast, etc.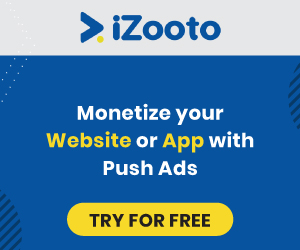 It is safe to assume, and almost a given, that in this modern 21st century that we live in, most of the audience is over on the internet, right?
The audience over the internet provides valuable data, which is also known as "Audience Data."
So what is Audience Data?
Audience data is a set of quantitative information about the online habits of your target audience. In terms of campaign targeting, this is an excellent place to start. Your prospective deal would be more critical to your customer the more you get to know him or her.
The primary or most essential components of audience data are:
Interests
Intention of Purchase
Demography
Popular Brands
So from the data gathered by the audience, you can monetize it.
Audience Data Monetization is the method of efficiently extracting revenue from your audience. This can be achieved in various ways and forms, depending on the product, the platforms you use, the technologies you access, and the level of insight into your target audience.
Table of Contents:: Summary
hide
How to Monetize Audience Data?
To effectively use audience data monetization, you need to have a meaningful relationship with your target audience. So, to achieve this, you need to make your products or services which are in line with what their demands or needs are. You need to meet them at least, and it would be better if you exceed them.
It will drive more value to both the producers and consumers concerning products/services if it becomes successful.
Things to keep in mind to achieve successful data monetization are:
The essence of your company/model of business
Data quality/depth of your audience insights The networks and platforms from which you operate
The financial resources you have at your disposal
Customer-centeredness
You have a technical framework in place.
Some off-platform tactics you may be able to use
Usage of data in an ethical manner
Changes in the digital world, for example, are macro factors affecting the sector.
Here are the steps that you can use to monetize your audience's data:
Knowing and understanding what your audience wants
Crafting a relevant product or service according to the audience's need
Maintain the trust of your audience through the improvement of brand
To do the steps mentioned above, here is what you need to carry out:
First, get a sense of what the target market wants.
Make the best digital product you can
Sell that product/service
Maintain authenticity throughout
Learn from the audience's feedback and reviews
Scale up the number of your target audience
10 Best Audience Data Monetization Platforms: 2021
Now that we know about what audience data monetization is and how to execute them, let us take a look at the various platforms for Audience Data Monetization, which are available in 2021:
1. Audience Play: Data Monetization Platform for Websites and Apps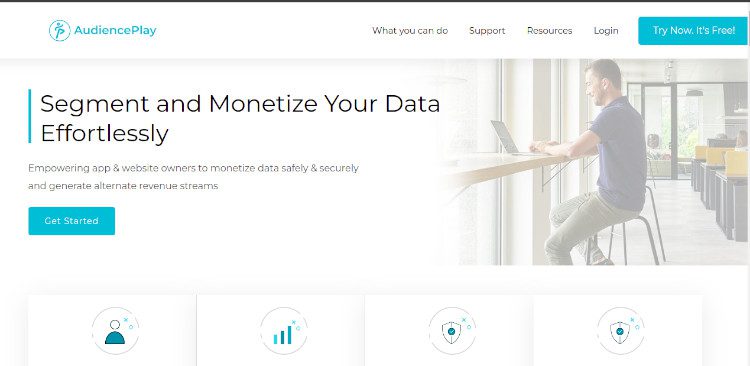 Audience Play is an audience data monetization tool that monetizes the data from the mobile app or the website. To start executing these audience data monetization tools, you need to integrate a line of javascript into your header.
To do this, you need to have ten thousand users to see the segmentation of the audience and over a hundred thousand users to get some revenue from it. 
After giving Audience Play a try, there seems to be some glitch, as the number of users visiting the site and the numbers on the  Audience Play dashboard do not seem to match up. Also, sometimes, the number of 'total users' does not grow as expected from this app.
2. Lotame: Best Audience Data Monetization Platform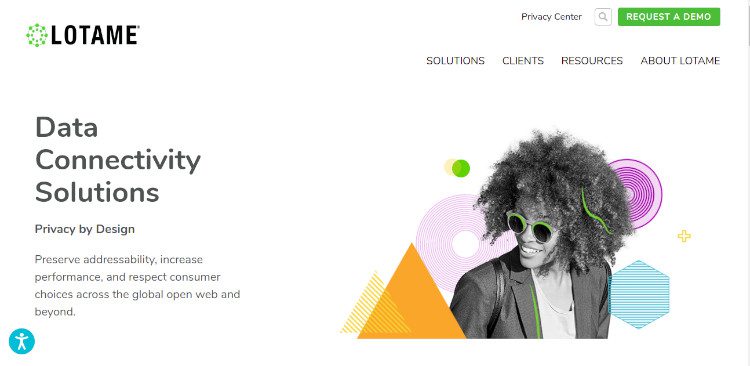 Lotame Panorama ID is one of those audience data monetization platforms, a global, privacy-compliant identity solution for the open web focused on individuals. Their enriched ID is accessible and interoperable across the cookie-challenged network, all domains, computers, and platforms globally. It is built from multiple inputs (web, mobile, CTV, and customer data).
One of the best data monetization companies around, you can monetize the audience data as a publisher by selling it to 'Panorama Seller,' a technology that surfaces the data-rich audiences advertisers want for direct and programmatic selling across the cookie-free network. This data monetization approach could be a new revenue stream for you.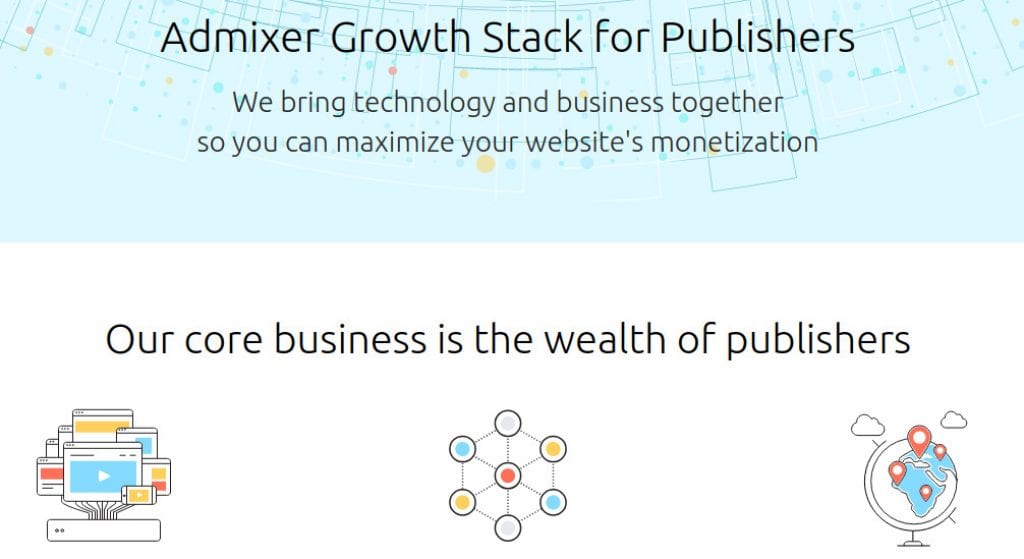 3. AdMixer: Best Data Monetization Company
Have you ever wondered how much money publishers make? Publishers make 70% of their money from targeted advertisements. When third-party cookies are phased out, this revenue will be lost. Inventory with no audience data would have a 2-3 times lower eCPM. Advertisers can reallocate budgets to platforms that have built-in authorization mechanisms for collecting user data.
One of the best Audience data monetization platforms around, Admixer ID is a universal identifier that lets you monitor users across browsers, platforms, and devices without using-party cookies. As a result, advertisers and publishers may use this solution to segment, aim, and measure their audiences in one place.
4. Retargetly: Best Audience Data Monetization Platform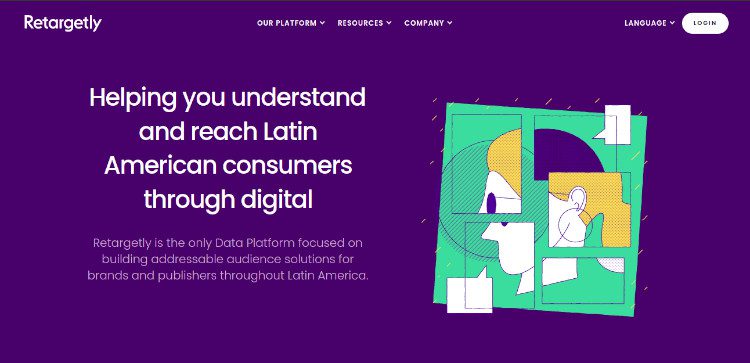 Retargetly is Latin America is one of the only audience data monetization platforms dedicated to creating addressable audience solutions for brands and publishers. Publishers and data owners may use Retargetly's Platform to generate new revenue streams from untapped consumer data or improve existing data distribution. Across LATAM, they sell audience segments to over 300 agencies and brands.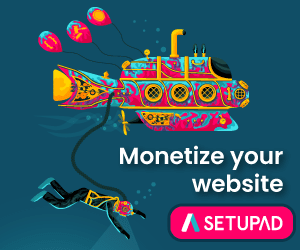 5. OnAudience: Best Audience Data Monetization Tool
OnAudience.com is an audience data monetization tool/website that connects people with their audience. DMP makes it easy to evaluate online customer profiles. You can create reports that include your users' preferences, demographics, and purchase intentions automatically.
The website then identifies behavioral trends and displays which characteristics are unique to your online customers, such as if your visitors are mainly young people from big cities involved in travel and technology.
Through this data monetization platform, you classify the most important client groups based on the results and target them in highly targeted campaigns. The segments are then presented in the reports to which users who visited particular product pages belong, such as whether your consumers are interested in automobiles or are planning to purchase electronics.
6. AdZapier: The Complete Audience Data Monetization Tool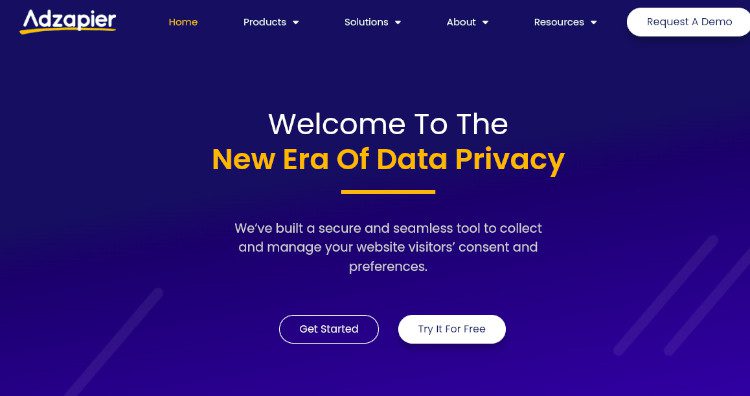 Adzapier's is one of those audience data monetization tools where technologies and software offer publishers a distinct advantage in maximizing the value of their first-party data assets while enabling data buyers to gain access to a diverse supply at scale. In addition, publishers have a unique gift in checking user preferences, tastes, and demographics—authenticated data—thanks to first-party user relationships.
By anonymizing any personally identifiable information (PII) and linking you to Advertisers, Adzapier's data network enables you to monetize your data.
7. Complementics: App Data Monetization Platform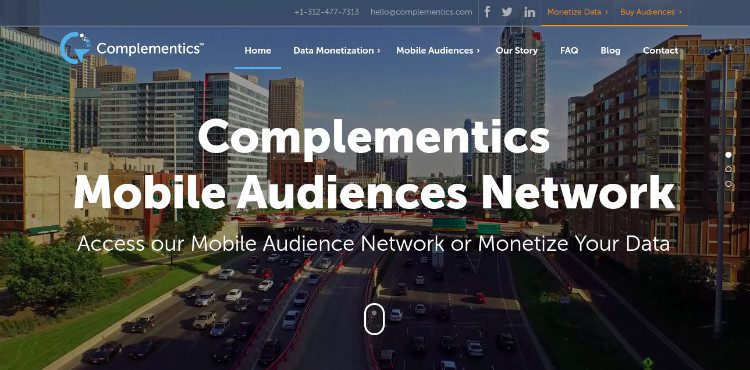 To start monetizing your audience data,  just add the Complementics SDK code to your app. The information you send is encrypted, and you can start earning immediately.
8. Sovrn: Best App Data Monetization Platform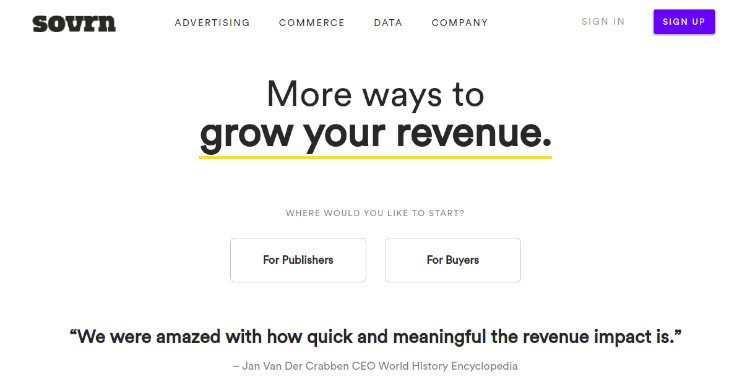 Sovrn is one of the best audience data monetization tools, which gives you access to powerful new recurring income streams while maintaining your privacy and protection. So you can get a new monthly revenue stream without putting yourself or your users at Risk. And improve output by combining email monetization with Sovrn advertisement goods. It's almost as if you're paid twice for the same user.
Create a new recurring revenue source that is both strong and profitable. It's easy to use and stable, and it requires no maintenance.
How to Get Started with Sovrn | Code Installation Guide
Here are the steps required to get started with Sovrn-
You need to signup with Sovrn using the link given below. 
Once the signup process is complete, you need to add your site, and it will be sent to the review team for approval. 
You need to update your ads.txt file with the additional ads.txt lines. Following this, you can generate the ad tags of your choice from the dashboard by visiting the 'Sites' section.  
You have the option to choose the minimum floor price and passback ad unit. 
You can use a plugin like 'Quick AdSense' to place the in-content ad tags. 
9. Adpicker.ai: Top Audience Data Monetization Platform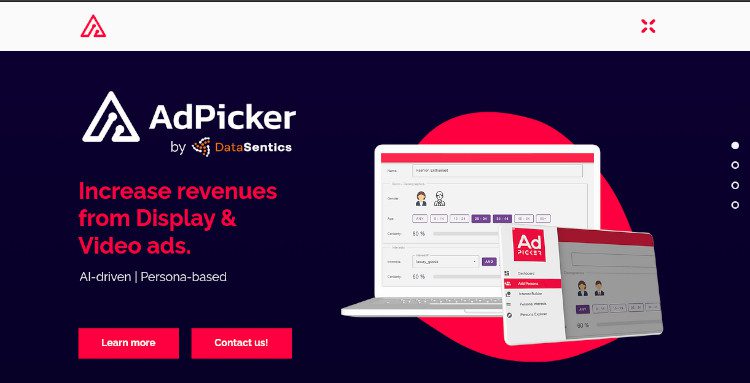 One of the best audience data monetization platforms around, AdPicker is a method for pinpointing ad placement. In addition, AdPicker's Persona-based segmentation allows large companies, such as online publishers, to monetize their website data.
So what are personas?
Personas are groups of people (your website visitors) who share common interests, such as a 25-35-year-old man looking for new shoes, a family, and a desire to travel.
You can quickly build personas for your campaigns with AdPicker and increase your conversion rate by 30% on average. Unlike other audience data monetization platforms, AdPicker is based on modern AI and machine learning. In addition, instead of traditional third-party cookies, which are currently restricted, it uses first-party data.
10. Eulerian: Best Audience Data Monetization Platform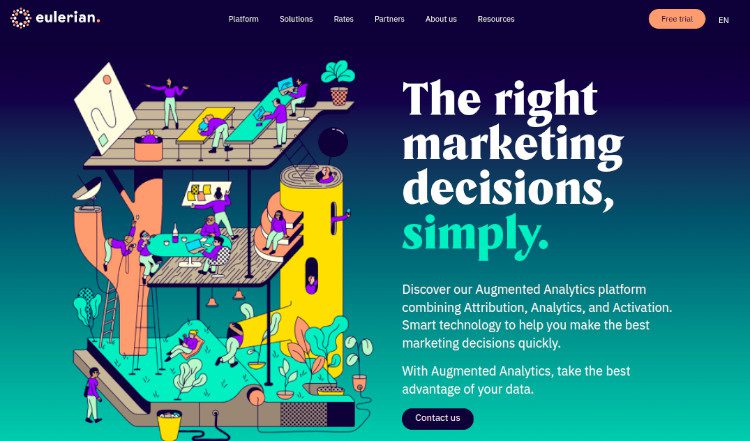 Eulerian is one of those audience data monetization platforms where publishers enable you to see where the data is most useful in monetization. It helps you find new growth pathways by resolving your identity. Diversify your revenue streams or improve your current business models. Your content offered appeals to unique demographics and adds market value to your data strategy.
It also assists you in keeping track of user interactions and categorizing them into audiences. You know how to make material that people want to read. You can now build high-value markets that advertising companies like. Decide on how to monetize your high-value audiences. Share the best method for your monetization plan with your audiences, thanks to the streamlined workflow.
Finally, these are the top ten website monetization channels on which websites will operate. These are open to publishers, marketers, website owners, and developers of all types. The Website Monetization Platforms then assist you in a variety of sound and better ways.
Our Recommended Tools for Publishers:
Looking to Increase your Ad Revenue:
Get in touch with me for a personalised consultation and increase your ad revenue across native, display, video (instream and outstream), in-app and other verticals. I also assist in customized DFP setup, header bidding, and content creation strategy. My skype id is:
ronniedey
. Feel free to connect!

I and my team research various ad networks and can help you increase your overall ad revenue; so you could rake in more greenbacks with the best monetization platforms. Tap into the power of the online publishing business with me. I am just a mail away, so reach out to me if you want to scale up your website revenue. mail: [email protected]